Shopping Cart
Your Cart is Empty
There was an error with PayPal
Click here to try again
Thank you for your business!
You should be receiving an order confirmation from Paypal shortly.
Exit Shopping Cart
| | |
| --- | --- |
| Posted on August 8, 2017 at 8:25 AM | |
As Nick has taken on quite a lot of work off the island at the moment, I thought I'd try my hand at updating our blog.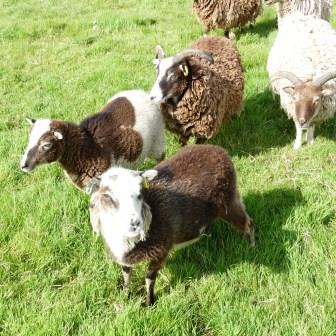 Lovely guests, on Ynys Môn for the Eisteddfod, left yesterday morning and, with no-one booked in for a few days as Nick is away, I have the joy of being able to choose what to do today. Of course, that's after the regular chores… for those of you who haven't visited us (yet!) these include…
Morning & afternoon feeding and checking on the animals: 2 pigs, 10 hens, 20 Soay sheep, 3 cats and 2 dogs. This is quite often a delight, as it was this morning - with the sun breaking through the clouds, the birds tweeting and the friendliest sheep coming up to give me a gentle "Bore da!" nudge.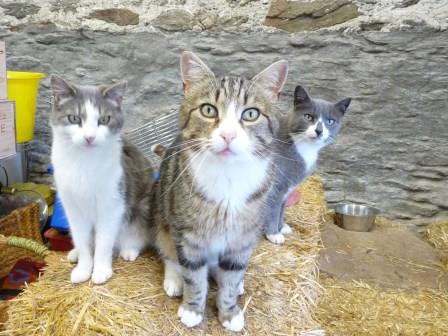 I moved the boy sheep from Bottom to Middle Field which intrigued the pigs who are in Top. They galloped down to the fence to see their new neighbours, or rather to try to see them. They have gloriously floppy ears which hang right over their eyes, giving them natural blinkers. The boy sheep, not having been on this territory for about three weeks, obviously needed to do some male "I'm in charge here!" thing as there was a lot of head butting and prancing around. This seemed to scare the poor piggies who dashed back up to the top of the hill and the safety of their hideout under the gorse.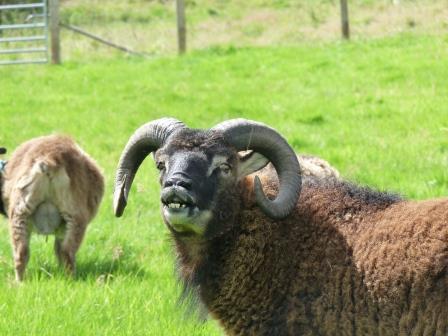 Pigs at speed. I never realised how fast a pig can run until we kept our own. As we are lucky to have the space (and land that needs clearing), all of our pigs over the last three years have had a small field to call home. They have an ark and a small enclosure around it whence they retire at bedtime or for their afternoon siesta, but otherwise they roam around, rootlin' and a-tootlin', digging up tasty roots, finding a tree to scratch their backs on or a nice bit of mud to cool off in. How great for them to have all this freedom! Then I arrive with a bucket of food for them. They don't generally see me coming (note above) but they know what the metallic click of the gate opening means. It's their starting pistol.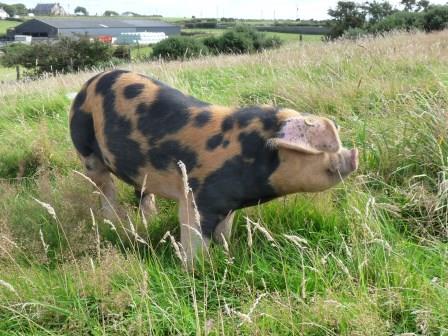 If there's nothing between you and the hurtling hogs, it can be a little unnerving. Their braking system is unpredictable and generally involves stopping by means of shoving head into bucket – because surely the bucket will stay still and the person holding it won't be bulldozed over?
One of last year's pigs thought nothing of crashing straight through the live electric fence at feeding time, or when she fancied snacking on windfall plums. However, getting her back over a turned off fence was a challenge and we probably should have videoed it for the amusement of our nearest and dearest. Our animal handling skills are improving – really! OK, so the progress is still a bit slow in some areas.
Wow, I have deviated from the daily chores, so at the risk of being a bore, I shall sign off for today and tell you about the delights of B&B laundry another time! Ta ra rwan!
 
Categories: The smallholding, The livestock, Latest activities
/