Shopping Cart
Your Cart is Empty
There was an error with PayPal
Click here to try again
Thank you for your business!
You should be receiving an order confirmation from Paypal shortly.
Exit Shopping Cart
| | |
| --- | --- |
| Posted on February 12, 2015 at 10:45 AM | |
Well, what a couple of weeks we have had. The weather on Anglesey has been varied, to say the least. After a very wet couple of weeks, it has got drier and colder. We have now discovered that the pond does need lining – the ducks are unlikely to like a stagnant puddle! Although it was full for most of December, as soon as the weather dried up the water level dropped, so there is a good supply but it doesn't hold. We have also decided that the pond needs to be bigger, so another digger hire is on the cards!
Last time I promised an update on the aggressive cockerel. Clyde is a Cochin and a large one.when we first moved in he was fine with me, not creating any problems, although right from the start he was trying to stamp his authority on Suzi. In recent weeks, though, he has taken to going for me, too, whenever I go near him. We have sought advice, from the previous owners, other experts, and it seems that none of the potential solutions work. Various suggestions were made as to what could be done.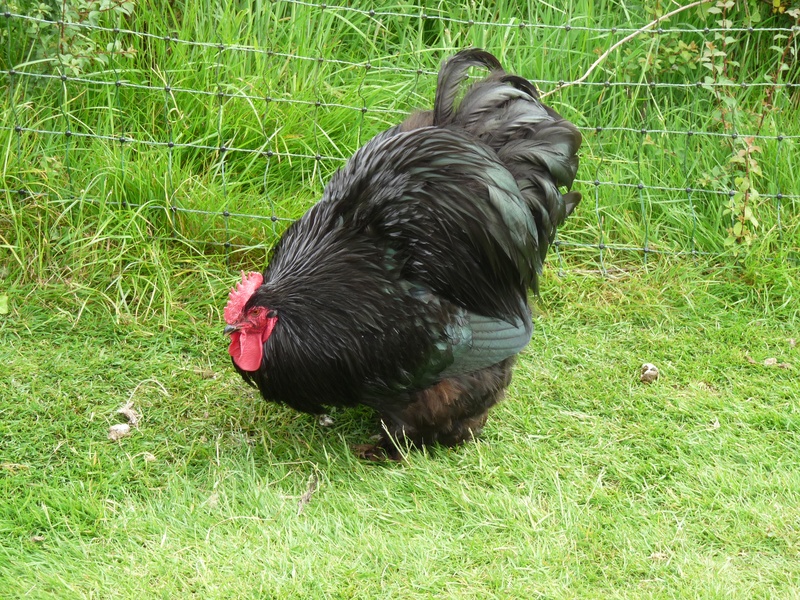 Wearing different clothes, standing firm, staring him out, not turning one's back – all these were suggested but none have borne fruit. I am the only one that can deal with him now and I have to segregate him if I need to clean out the hen house or check on eggs. There is now a comedic dance that goes on whenever I need to move him, as we both posture and strut for position, like some strange Argentine tango! Anyway, we knew that this would never be easy!
I never knew I was a fan of dancing until the Strictly Come Dancing phenomenon but we even a couple of weeks ago went to see Anton and Erin's fabulous 'That's Entertainment' show at Llandudno.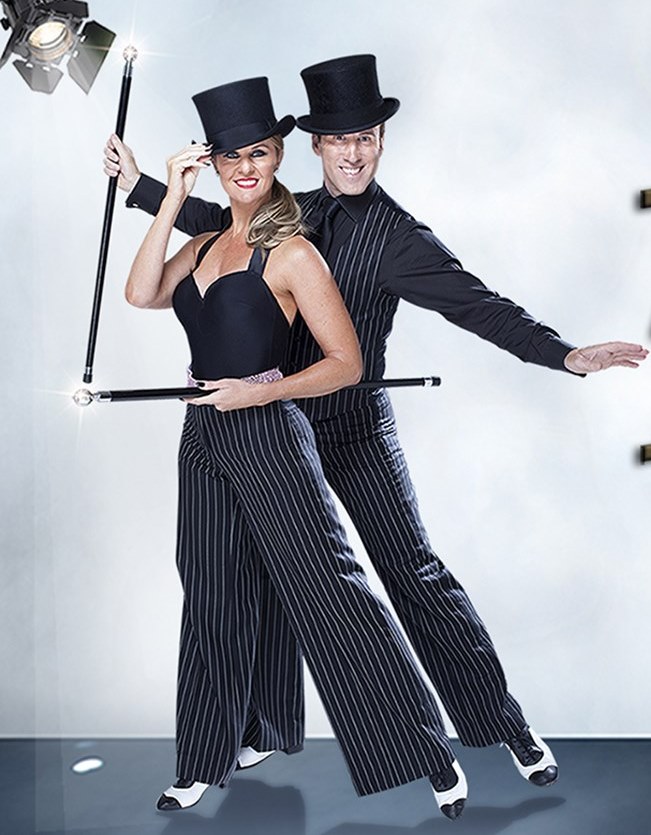 Not that you'd get me out on the floor but it is good to watch. Mind you, we did drop the average age when we walked in!
Other works that are going on include the driveway repairs. The drive is about 300 metres and rutted and potholed, which challenges smaller cars. Poor Dom's Smart Car did struggle – but it is so small he could drive down the middle of the track and miss most of the holes. Anyway, we had to grasp the nettle and get the drive repaired – although one neighbour suggested helpfully that if the drive is too good you'll get all sorts of callers! We do need to make it somewhat better for our visitors, however, so we bought a couple of tonnes of slate clippings and I spent a very happy couple of days filling and compressing the worst of the holes. Even better the weather was glorious!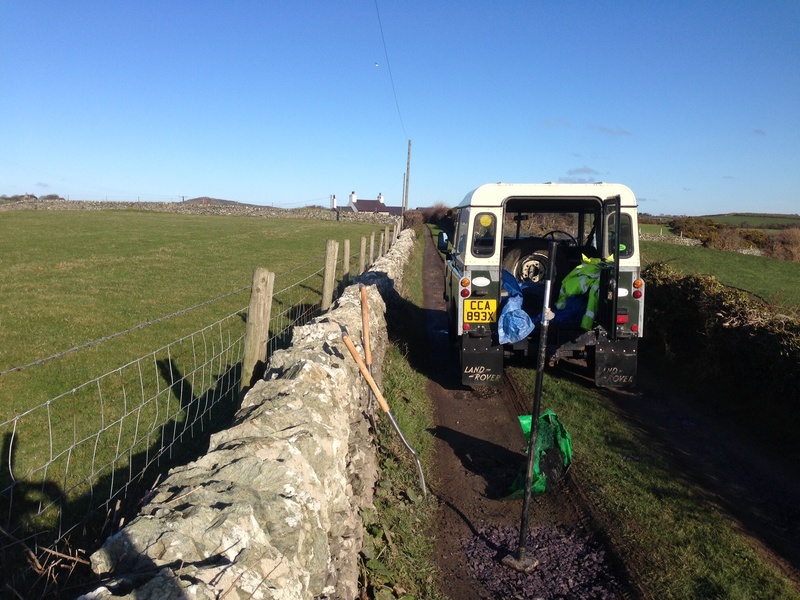 The job is almost finished and then it will be much improved!
The work on the polytunnel has stalled pending better weather but the preparation of the ground for the kitchen garden outside for the hardy crops is the next priority. We have been working inside while the weather has been less than clement and the library is nearing completion. The new fireplace has been installed (we used the Fire Works at Llangefni – they did a great job, although the need to put in a vent through an 18 inch thick wall was a challenge!) and we now have the surround tiled, using Spanish tiles collected by Suzi's great-grandfather at the turn of the last century. They look brilliant – as you can see.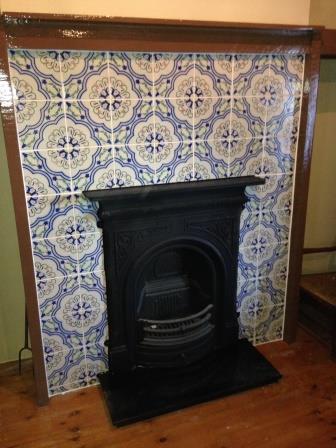 A great tiling job was done by Geoff, recommended by Izzy and Mikey. I think he'll get more work from us!

 

Suzi has been very happy choosing paint, material and other soft furnishing ready for when we have the B&B room ready. It has been somewhat frustrating trying to get the work done, but we now have the designs and are just waiting on prices. I never knew that there were so many types of shower, taps and baths! By the time the next blog is published I hope we might have the room ready.

 

In preparing the area for the growing we know we will need to have more storage so we are just off to choose a shed. What fun! We have also decided that the 'garage' in the barn is too small for the Land Rover (he is still to be named) so we are going to have to put up a garage for him. It also means I will be able to use the barn space as a workshop (or man-cave, as Suzi calls it), which is very exciting!

 

Ah, well. It is is time to head to the shed shop – more soon, when I hope to give an update on the arrival of pigs.

 

Categories: The smallholding, The livestock, Latest activities

0

/