Shopping Cart
Your Cart is Empty
There was an error with PayPal
Click here to try again
Thank you for your business!
You should be receiving an order confirmation from Paypal shortly.
Exit Shopping Cart
| | |
| --- | --- |
| Posted on July 24, 2019 at 4:55 AM | |
Creating a meadow is not quite as easy as I originally thought! My first attempt is only now, four years later, beginning to look good. Last year's attempt – having learnt from my earlier mistakes – has been much more successful.
Firstly, we had the right soil – the spoil from the new big pond was heaped up on the little hill in bottom field. Although a few perennial weed seeds blew in, the soil was not the rich top humus of the field laden with grass and other seeds, but it was the poorer, deeper, flinty earth from at least one metre down. I had a little help from my friends to plant it – in fact it made for quite a party as we all danced around treading the seeds in!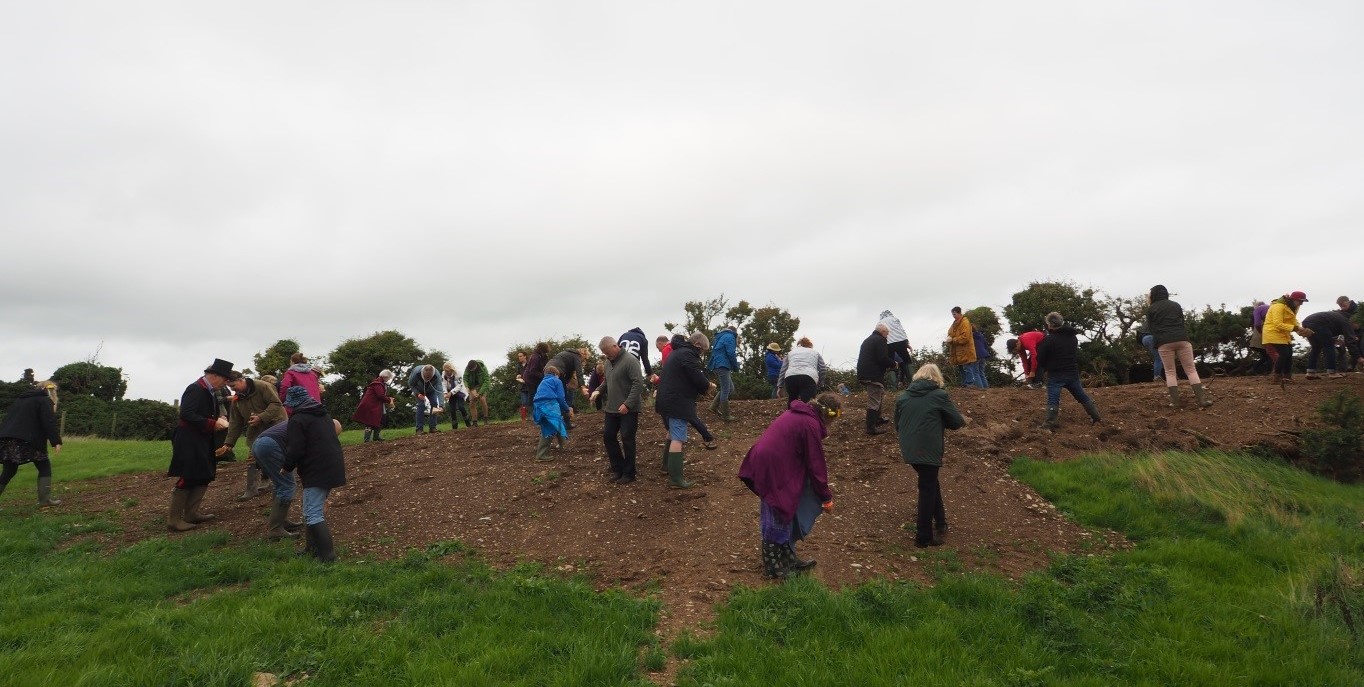 We followed the advice from the seed suppliers, Meadowmania, for sowing their Instant Sunshine Meadow Mix and around the edge of the future meadow we sowed a thick border of yellow rattle to try to hold the grass back – or at least weaken it. We sowed it in the last days of August, knowing that this was important to get the yellow rattle established and would get the other seeds off to a good start too. Yellow rattle needs the cold of winter to trigger it into germination.
It was really lovely over the winter – mild here as we are so near the Irish Sea – to see the plants begin to grow and by Easter the bare earth was a lush green.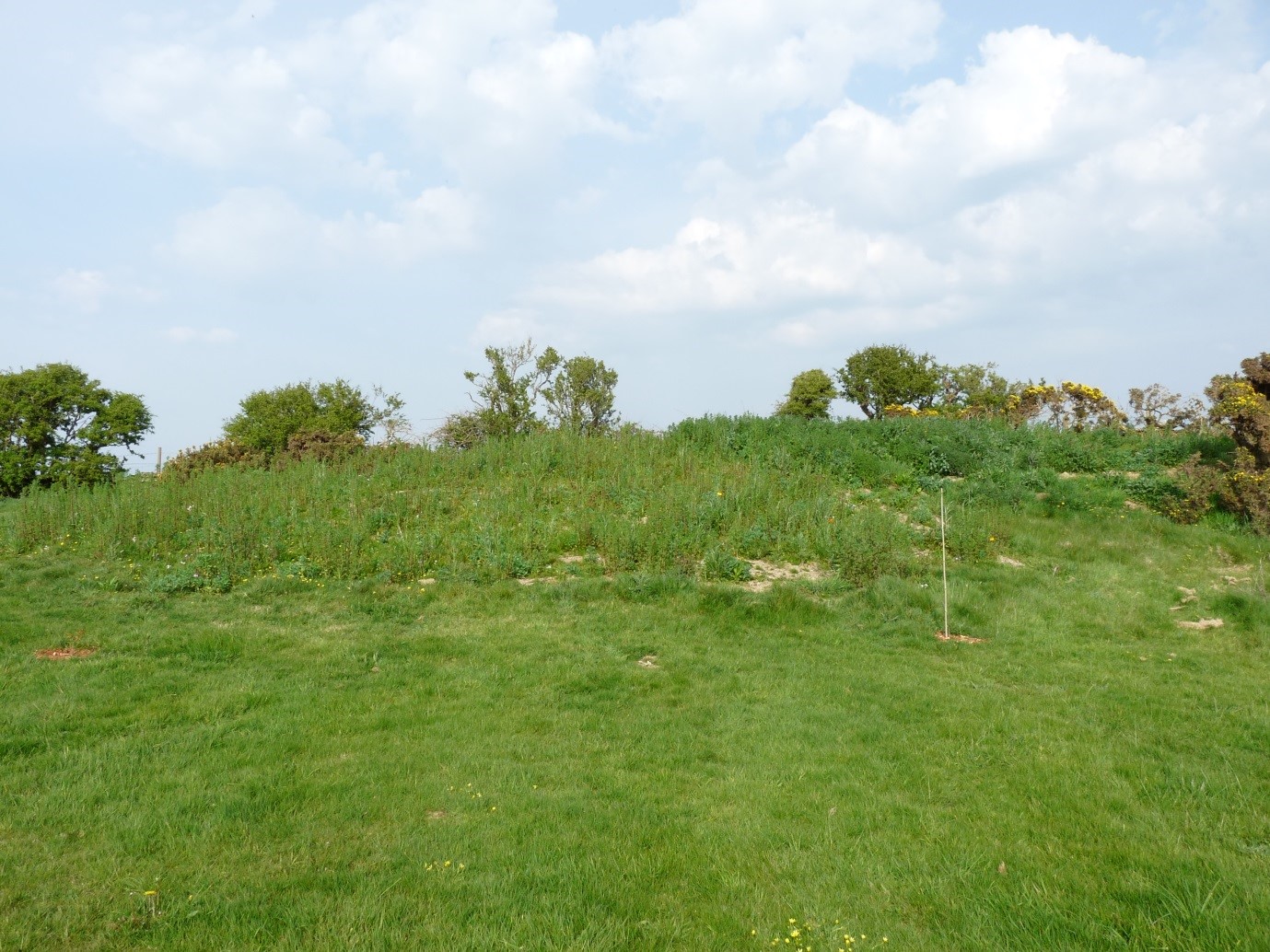 From then on I couldn't resist checking the meadow every day to see what new little flower had opened – such a great pleasure in the simplest of things! As the meadow started to flower, different colours dominated – the blue of cornflowers, the yellow of corn marigold, the white of ox-eye daisies, pops of bright orange and red poppies.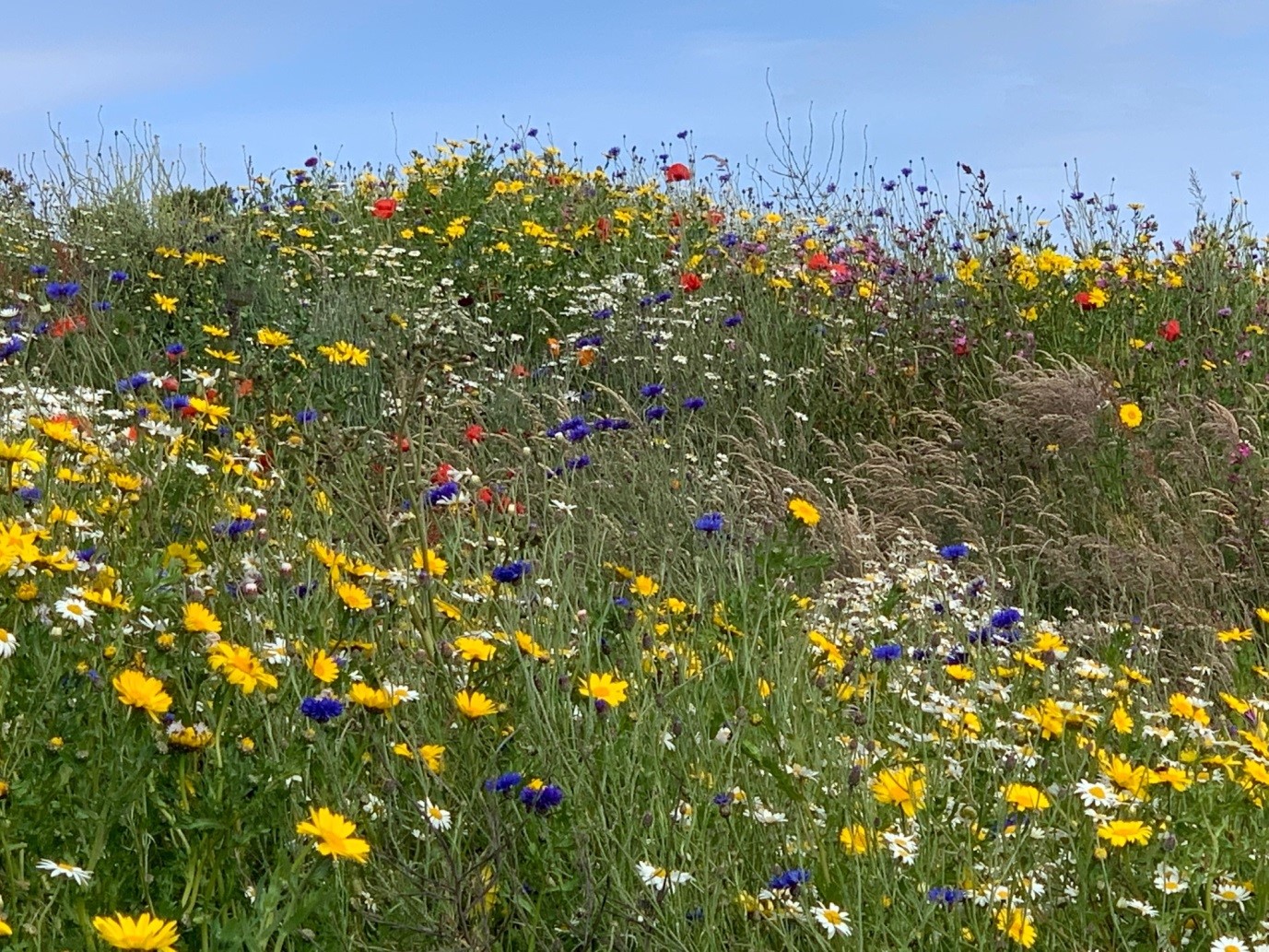 It's been great to see bees and other pollinators on the flowers. The pond where the soil came from has also been a great hit with wildlife – but that's a whole separate blog!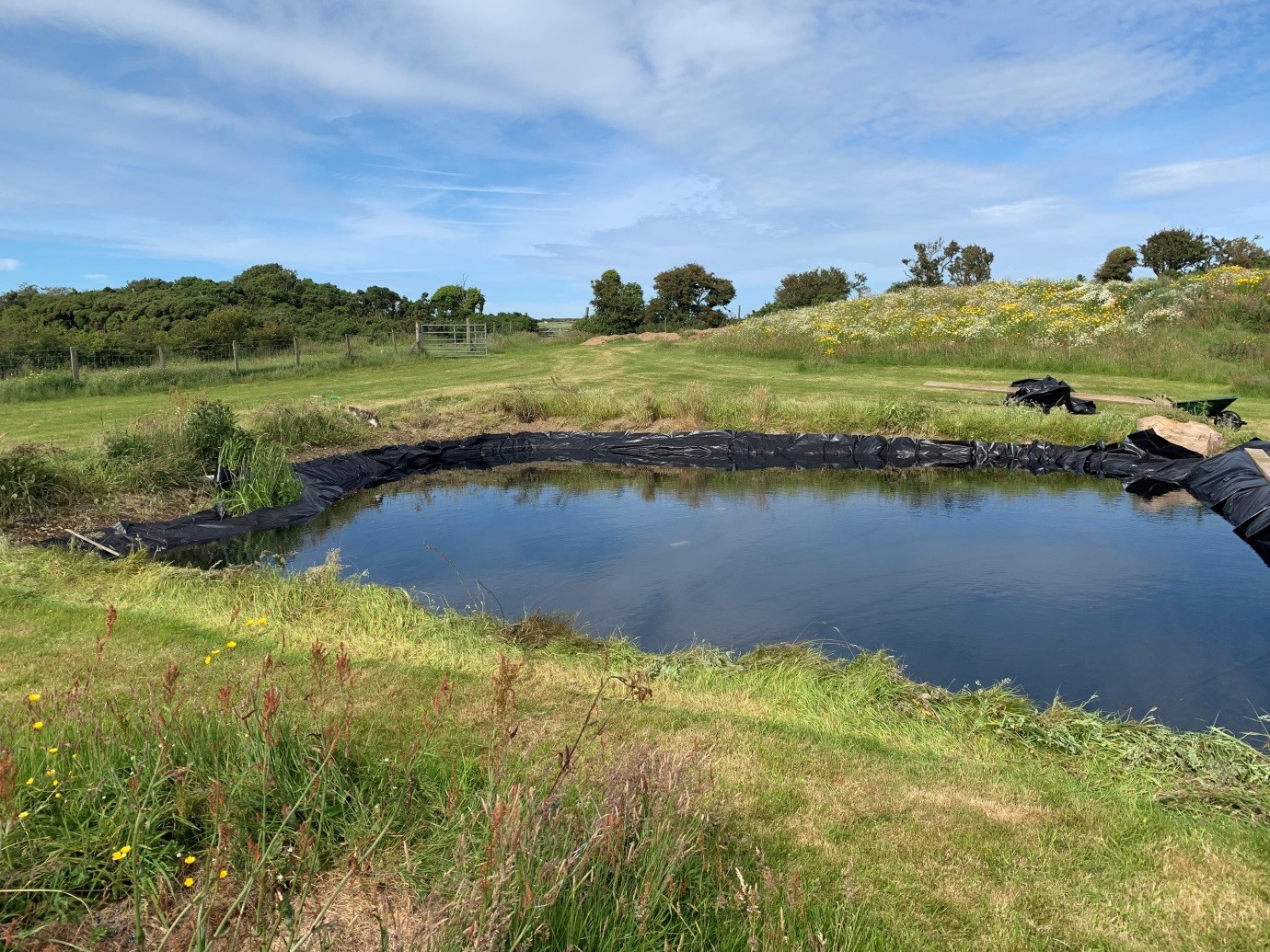 This field hasn't been grazed since early last year and we have left some parts unmown, as well as planting some trees (oak, hazel and willow) and other plants (snakeshead fritillary, mallow and angelica). In the unmown areas in this field and elsewhere around the smallholding it has been amazing to see what flora has been lurking unseen. We have spotted: native bluebells, foxgloves, alexanders, cow parsley, red campion, bird's foot trefoil, vetch, buttercups, dock, thistle, celandine, yarrow, cleavers, ribwort plantain, bindweed, ground ivy, dead nettle, lady's smock, common sorrel, lesser stitchwort, figwort… and that's just off the top of my head. So if a meadow is not possible in your garden, perhaps you could just leave an area unmown and see what emerges!
A huge thank you to Monya and Brian for helping put the bulk sack of seeds into small brown paper bags to hand out to people and to all my friends who helped sow the meadow! Happy memories!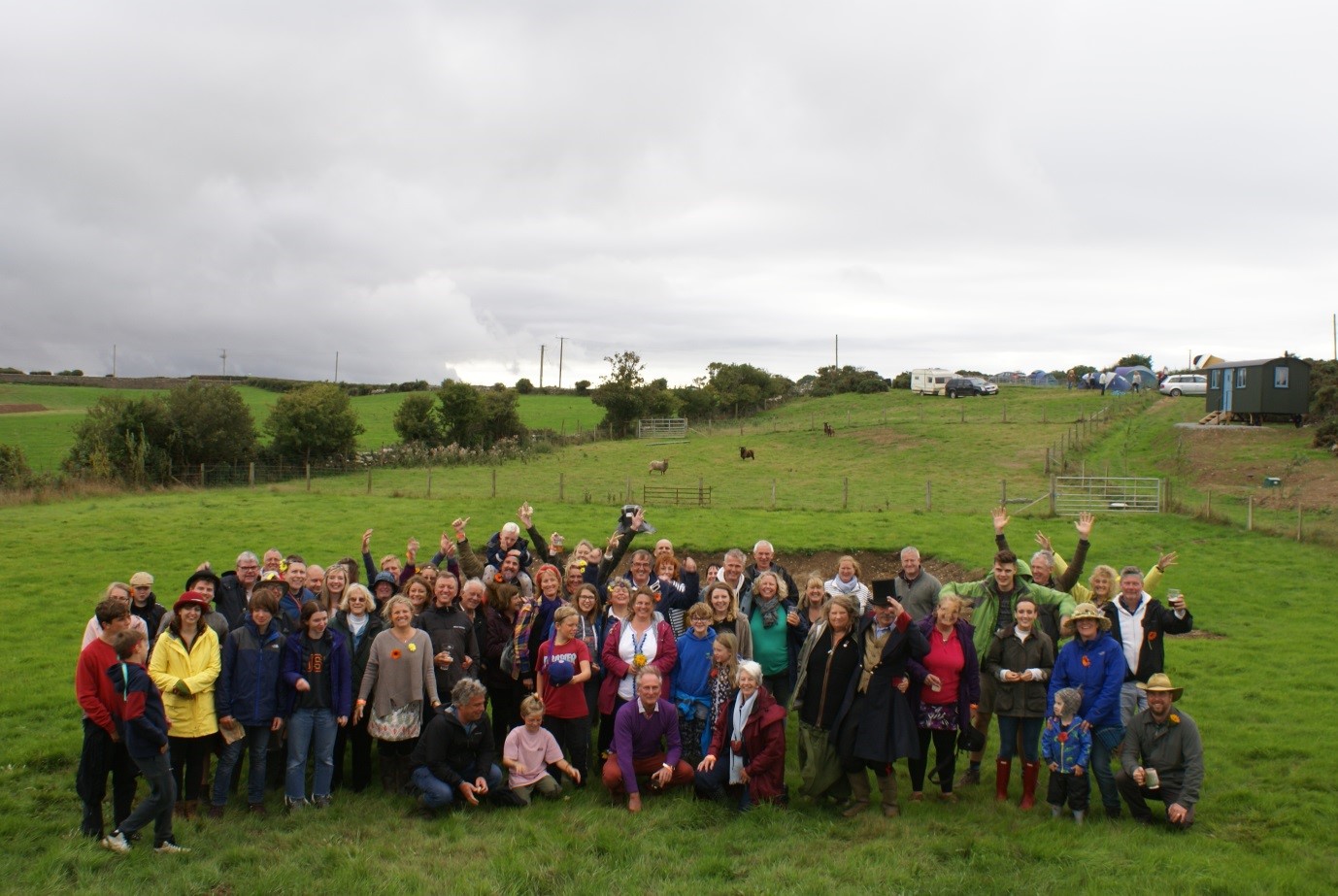 Categories: The smallholding, Latest activities
/