Shopping Cart
Your Cart is Empty
There was an error with PayPal
Click here to try again
Thank you for your business!
You should be receiving an order confirmation from Paypal shortly.
Exit Shopping Cart
| | |
| --- | --- |
| Posted on May 25, 2018 at 9:25 AM | |
I knew there would be trenches – from the electricity pylon at the back on the house to the Shippon via the water supply and via the new Calor gas tank, from the Shippon to Hut 3, from Hut 3 to Hut 1, then down the hill to Hut 2, then further down the hill to the sewage treatment plant…
What never occurred to me (stupidly), was the spoil that would have to be put alongside the trenches. Getting to our store room or the hen house is now an extreme sport. What fun! I have only slipped in once (so far!).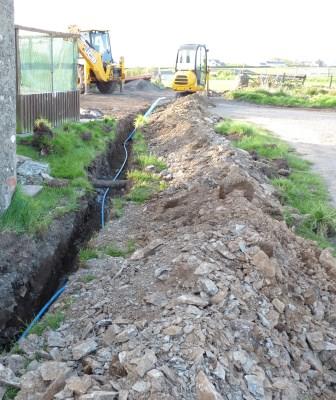 As many of our friends know, my husband loves to hire a little digger and this has been very handy on many occasions since we moved to Cae'r Bryniau: making holes for the polytunnel frame, clearing areas for shed bases, making a planting ditch for a hedge, creating ponds etc. However, having seen the exact and precise work of Gary on his bigger digger, I am not now sure how Nick will react. Will he give up, never hire another digger and just "get a man in"? Or will he have to hire one even more often to hone his skills?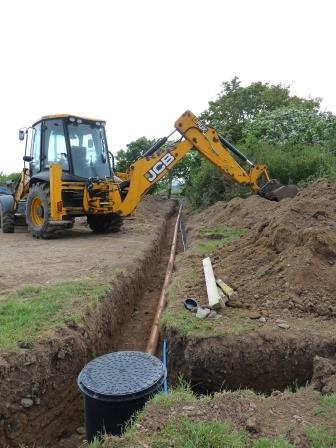 We have planning permission for three Huts, but are only putting two in at this stage. But we thought we'd get the bases ready for all three while we're at it. Hut 3 will go where the blackthorn thicket was by the parking area. This has meant digging trenches through the bedrock – hard and noisy work! The Calor gas tank is also going by the hen house, so more rock-breaking required.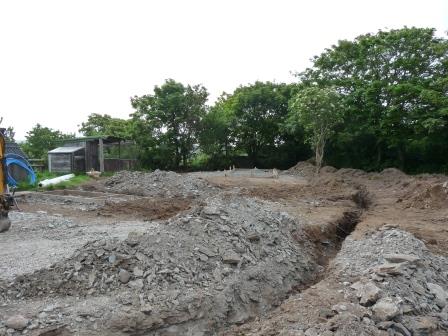 We're having Calor gas cookers and water heating in the Huts to take the pressure off the electricity supply, which means we should be able to run all three Huts at maximum capacity on one domestic electricity supply. The complexity of arranging all of this does now make me question our original decision not to go off grid…
So why did we take that decision? Firstly and perhaps most importantly – the loo. Believe me, I looked into compost toilets of many types. It would/should have been the green way to go (if you'll pardon the pun!). But, the potential downsides (use your imagination) of such a facility in a small Hut would, I believe, have had a detrimental effect on the holiday experience… Of course we could have put the loo in another building/hut nearby…but I am of the mind that an ensuite is not a luxury on holiday and I am sure that many of our future guests would agree. So a water supply was needed. Plus electricity for the sewage treatment plant.
The biggest dilemma was whether to have wood burners in the Huts. The charm and romance of cuddling up in front of a fire was, in the end, outweighed by two things: fire risk and no fire risk. Let me explain. The former is quite obvious once you have heard a few tales of other people's Shepherd's Huts guests: e.g. putting too much wood in the burner, getting too hot, taking a log out and putting it on the floor… The latter is the risk of guests being cold and therefore grumpy. As part of our research we stayed in a Shepherd's Huts in midwinter. It was a beautiful weekend – cold, crisp and absolutely no wind. No draft at all. In order to get the wood burner to draw we had to keep the Hut door open, which made us even colder. Brrrr!
There's also the problem of needing just a little heat on a chilly summer's evening, when a fire would be overkill. So we have gone for very unglamorous but supremely functional electric wall heaters. Don't worry though - there will be enough burning opportunities outside the Huts with all sorts of fire pits and barbecues to keep even the most ardent pyromaniac happy!
Enough witter for now. But let me leave you with a picture to hint at what my next blog will be about: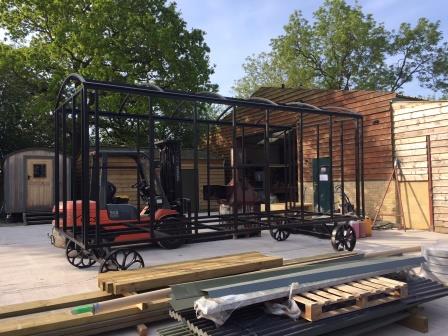 Categories: The smallholding, Accommodation, Latest activities
/