Shopping Cart
Your Cart is Empty
There was an error with PayPal
Click here to try again
Thank you for your business!
You should be receiving an order confirmation from Paypal shortly.
Exit Shopping Cart
| | |
| --- | --- |
| Posted on September 25, 2017 at 8:10 AM | |
This morning was one of those glorious sunny, misty ones which just makes your heart sing and also makes you wish you were Keats so you could write it all down mellifluously. It was so stunningly gorgeous that, after I'd fed the animals, I grabbed my camera to attempt to capture the essence of the sunshine on the dew and especially on the glistening cobwebs.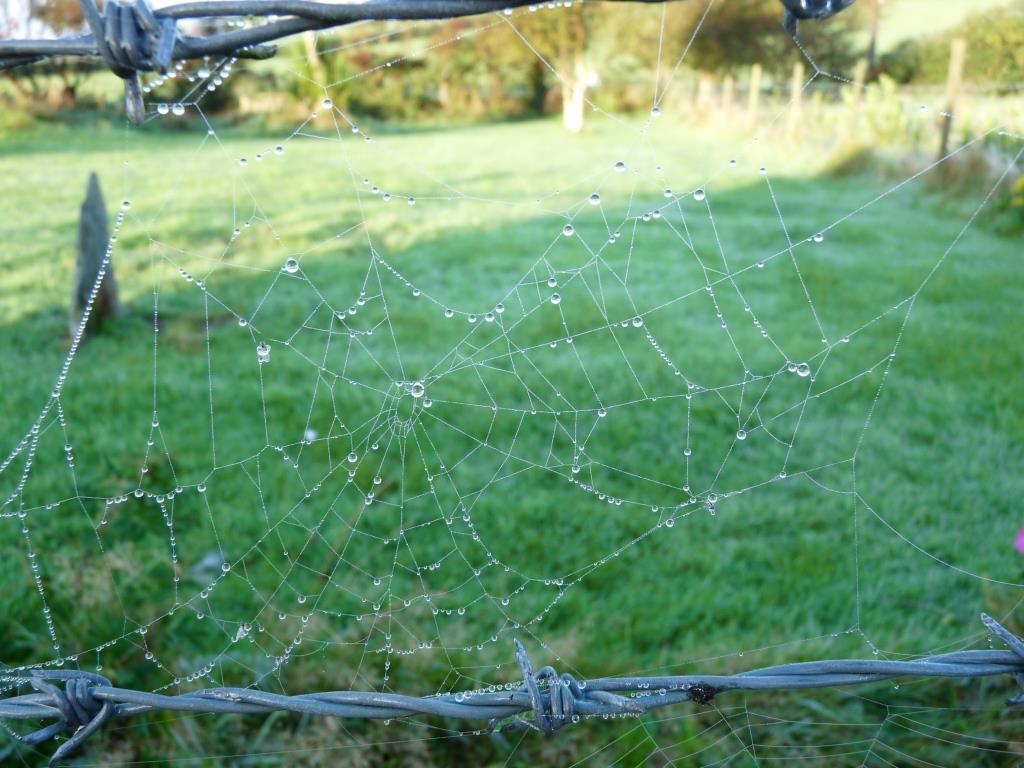 I have regular encounters with cobwebs in the mornings. I know where the usual suspects are: across the shippon door, across the chicken run and everywhere in the polytunnel. So I have developed a sort of Cobweb Tai Chi arm waving movement I perform, normally armed with a bucket of pellets or a hose pipe, to cut through the silken webs with my implements – rather than getting a faceful…It's a good thing only the cats are watching!
The webs on Gorse Hill this morning were silver filigree bedecked with diamonds – and those diamonds dazzled with all the colours of the rainbow but especially a yellowy gold. My photos have not done justice to the scene, but you can get the idea.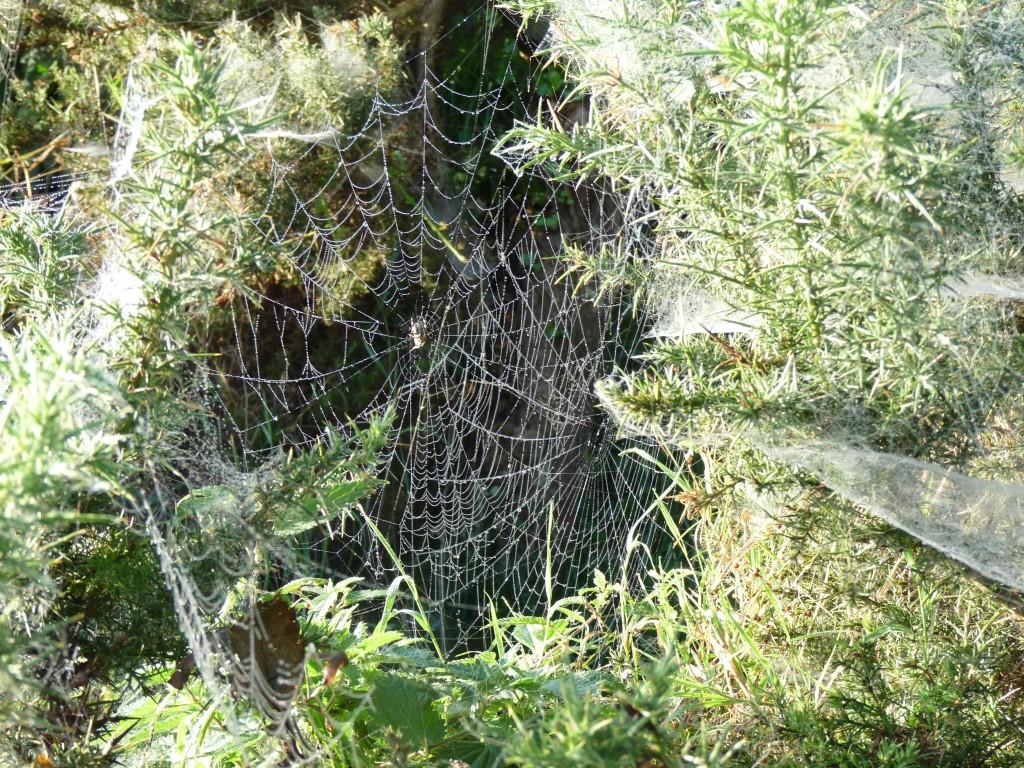 The grass was sparkling too, heavy with droplets of dew, and provided Barbara, our Black Lab, with her favourite drink. She's a nightmare to walk on mornings like this as she just wants to stop to lap up the dew. All the fences were dripping with jewel-like drops and the low sun showed every contour on the sheep's horns.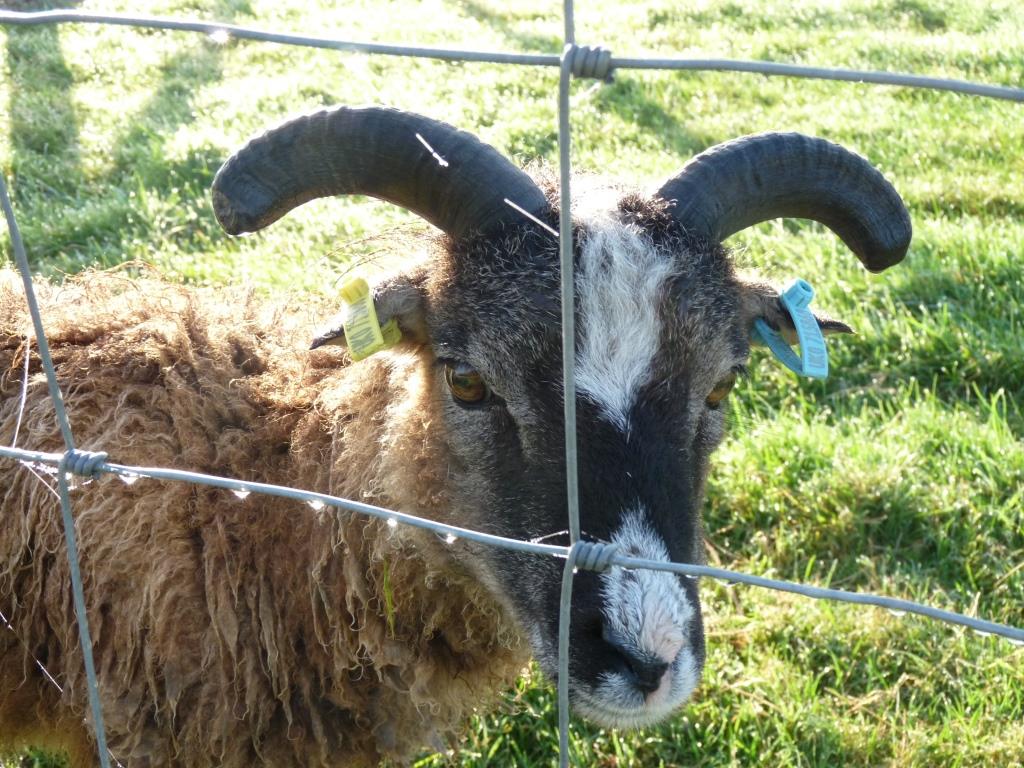 The bright red of the haws and the yellow browns of the sycamore leaves were all enriched by the rising sun and the laden boughs of the apple trees were almost visibly ripening in the intense morning sunlight. So often I find the sun seems to be strongest first thing in the morning, waking the world up and giving us the energy to get going.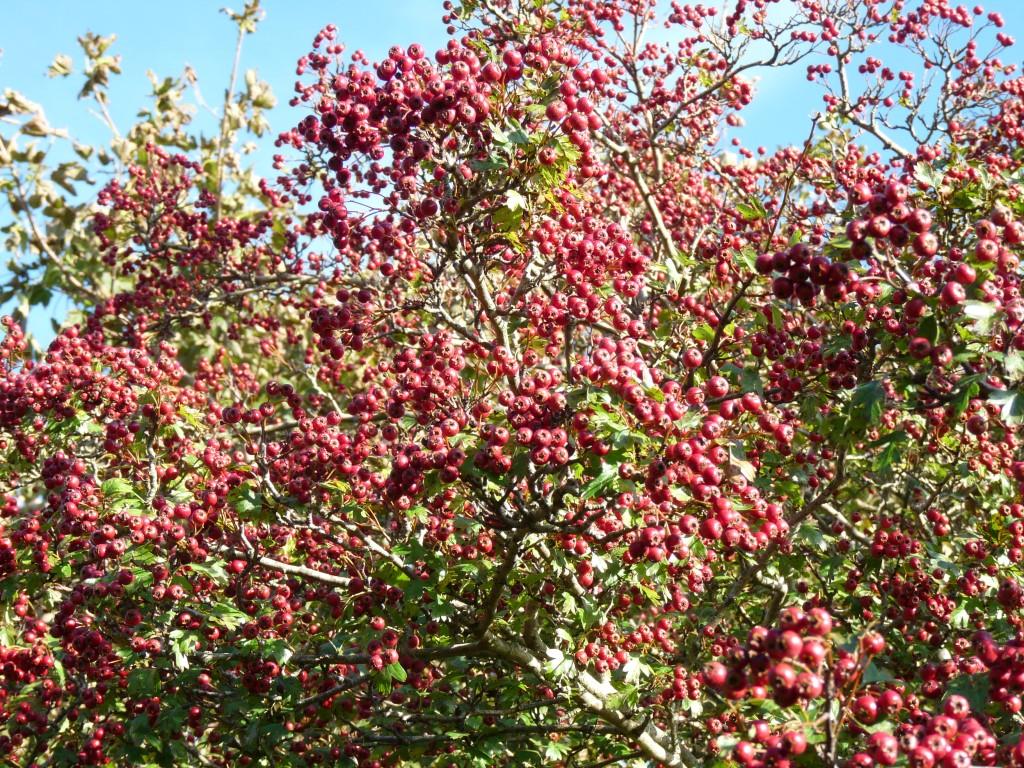 On a walk a few days ago (to the fabulous burial chamber, Bryn Celli Ddu), our path was strewn with crab apple windfalls so we all picked up as many as we could and stuffed them into pockets and carried handfuls back to the car. Over the wet weekend we've just had, I have been reading recipes to decide how best to use them. I think rosehip and crab apple jelly shall be the thing – so let me arise and go now, go to the bountiful hedgerow…
Categories: The smallholding, The livestock, Latest activities
/