Shopping Cart
Your Cart is Empty
There was an error with PayPal
Click here to try again
Thank you for your business!
You should be receiving an order confirmation from Paypal shortly.
Exit Shopping Cart
| | |
| --- | --- |
| Posted on December 14, 2015 at 10:05 AM | |
Hello!
Yes, it is me – after an age I am back at the blog desk. No excuses, it's just that we have had a very busy spring and summer and our B&B plans have been put back until next Spring due to a variety of reasons, some within our own control and not contractor-related!
As of today we have been here just over a year and our thoughts are turning to the next 12 months and the exciting times ahead. We wanted to mark the momentous occasion by a review of what we have been doing on the smallholding and away from the island.
Firstly the en-suite guest room is (nearly ready) and we have a luxurious bathroom and bedroom. The before and after pictures show the difference. Trying to get the work done was a challenge but the results are fab!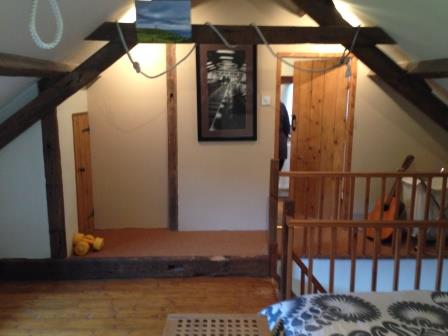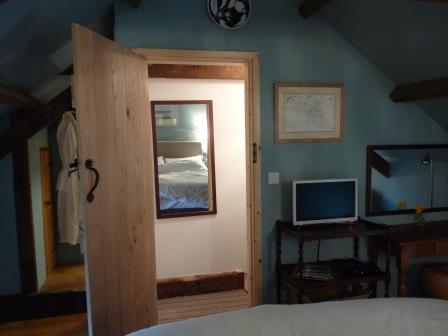 Secondly the valley. The polytunnel is up and running as are the veg beds. Just have a look at the progress… The storms in recent weeks have challenged the construction but she has held up in spite of 70 mph winds. After a relatively fallow first season, due mainly to my absence for much of the summer, we are looking forward to a new growing season. We also have raised beds, which have been very productive, and we have been able to assess what grows best in some challenging windy conditions.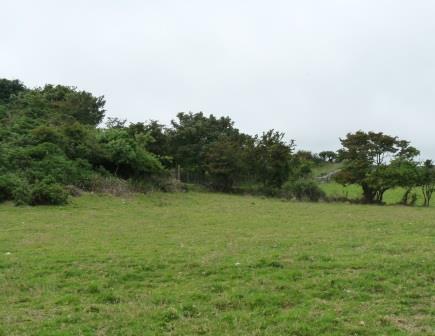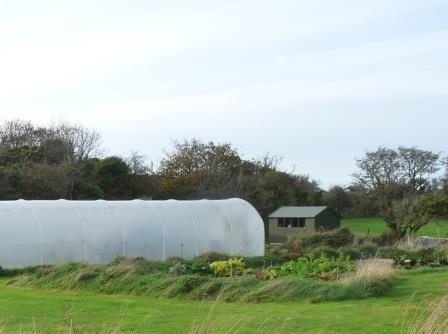 There has however been so much going on that we don't know what has happened to the year.
Arrivals and departures…
Arrivals
One of the most exciting aspects of the year has been the arrival of various new members of our family. The first significant arrival was that of our piglets. Numbers One and Two were Oxford Sandy and Black weaners and were 8 weeks old when we picked them up from the breeder on the island. They were boars who settled quickly into their new home in the Pig Field (note the imaginative nomenclature). They started with a small pen and we gradually extended the field until they had most of it. They did a fabulous job of clearing the bindweed!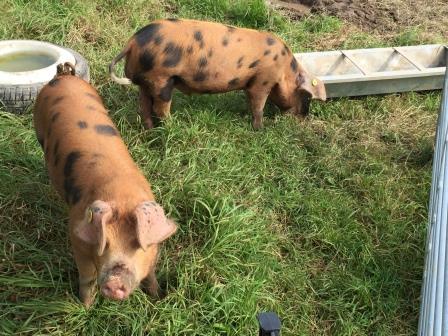 The next arrivals were 12 Soay sheep. We opted for Soays, which are Hebridean, as they are hardy and can pretty much look after themselves. We picked them up from Macclesfield and had a long drive with the trailer. We had agreed to take 8 ewes and 4 castrated rams, with the aim of using them to cut the grass. The lawn tractor is great (well, the new one is) but can't cope with the incline. The sheep settled well into their new home. We had our friendly local fencer divide the field up so we can rotate them and they are doing a great job. The next arrival was sheep no. 13! One of the ewes was, unknown to us, in lamb and Felix arrived a couple weeks after the herd arrived. He is named Felix, which is Latin for lucky or happy, as he (1) was not castrated, (2) will provide the source of new lambs when we get a couple of ewes from a different herd and (3) he will not end up in the pot! We have a policy of not naming the animals unless we do, so we also have Friendly, Granny and Daggy-bottom (don't ask!).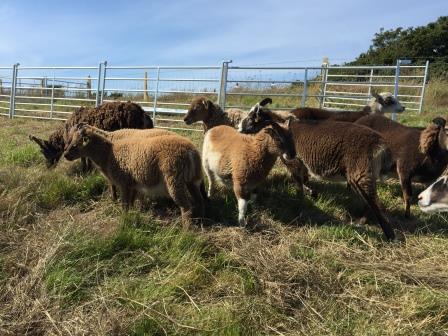 Finally we saw the arrival of Tom and Barbara. Tom and Barbara, born on 26th June, are the two most gorgeous Labrador puppies. Tom is yellow and Barbara is black, but they are from the same litter. They joined us in early September. Both are thriving – hard work but a joy! Their names are pretty obvious. We were given such a ribbing about living the Good Life that there was no option but to name them after Tom and Barbara Good! The picture is the latest one of them. Tom has just been 'done' and Barbara is wearing a cone in sympathy.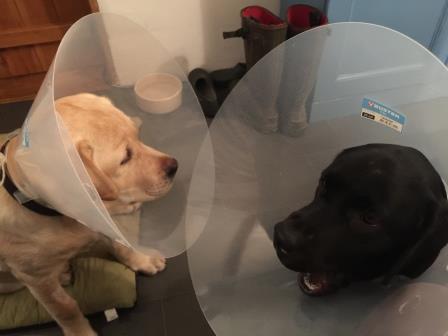 Departures
We have sadly lost three chickens over the year but still have eight who are very happy and healthy but being rare breeds eggs are rare!
One of the hardest things we did was to take Numbers One and Two to slaughter. Being boars it is recommended that they are killed no more than six months after birth due to boar-taint. This apparently occurs when they hormones start to race around as they become sexually mature. We always knew that if we wanted to live this life then we would have to cope with this aspect of smallholding. Anyway, we took the pigs to the abattoir at Denbigh and picked them up the next day and left them with the butcher to prepare. They are now in the freezer and what we have had so far is delicious, especially when served with all our own vegetables! Visitors to Cae'r will be able to partake in some of the produce and the next pigs arrive in a couple of months' time.
The preparation of Suzi's treatment room is moving on and soon the therapy business will be up and running. It promises to be a calm and peaceful retreat, just the ideal place for top quality holistic therapies. 
One of the key elements we are looking to do is to be as self-sufficient as possible. We are on mains water but also have a well that apparently provided water for over a century. We would like to use the well water and maybe even look at a borehole to make us even more self-sufficient.
Through the good offices of the Centre for Alternative Technology we have also looked at what we can do in terms of energy usage and efficiency. Watch this space…
Finally, as English on Anglesey we wanted to do as much as we can to integrate and have therefore started learning Welsh. We are doing the Wlpan course every Friday morning at Cemaes. It is hard work but great fun and lovely people, too. Bendigedig!
Categories: The smallholding, The livestock, Accommodation
/