Shopping Cart
Your Cart is Empty
There was an error with PayPal
Click here to try again
Thank you for your business!
You should be receiving an order confirmation from Paypal shortly.
Exit Shopping Cart
| | |
| --- | --- |
| Posted on January 18, 2015 at 2:45 PM | |
My, how time flies! It is amazing to think that we have now been here for more than two months and we are now in 2015! Happy New Year, everyone!
In the run-up to Christmas and the arrival of various special guests we were determined to get the 'Library' up and running. This room will be a place with lots of our books, pictures, Elvis (more of whom later) and the piano. It will also double as our dining room and the B&B breakfast room.
The room had been formerly the dining room, but was hampered by a reconstructed crog-loft, that was not usable, but which seemed to dominate the whole space. We were keen to remove it and get the place opened up. On 16th December it was decided to get it as complete as possible by Christmas.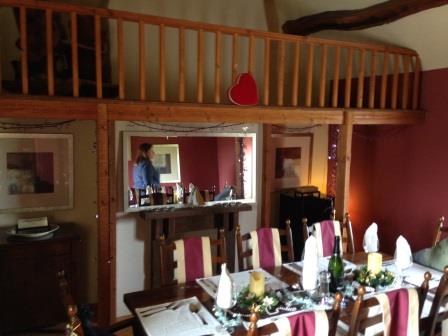 We cracked on. I was delegated with the demolition work (note to readers – don't try this yourself - unless you go to the hardware store and get lots of power tools, hammers, chisels and saws – and, of course, a workbench!!!)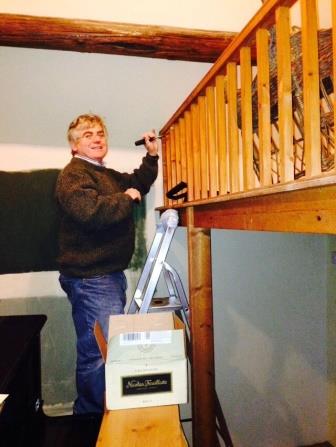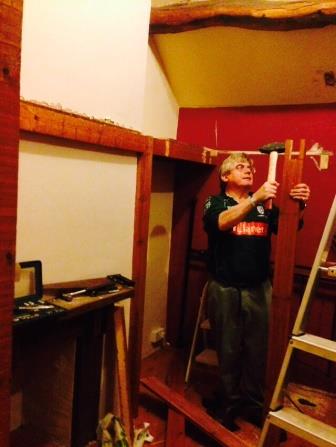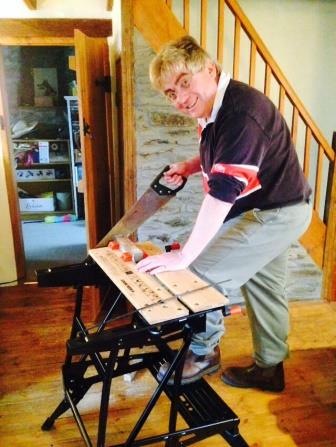 Suzi worked on the décor, selecting the colours and doing the majority of the painting, and the acquisition of curtain poles, soft furnishings and other furniture, as well as supervision and direction.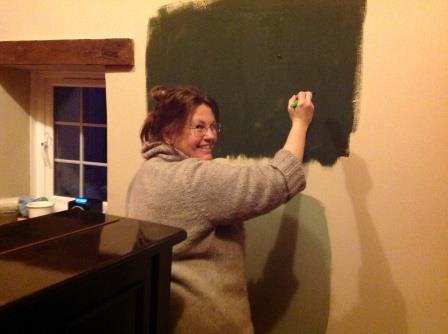 There was also a chance to get some of our pictures out and cleaned ready for display. Having had stuff in store for ages, it was good to see them again.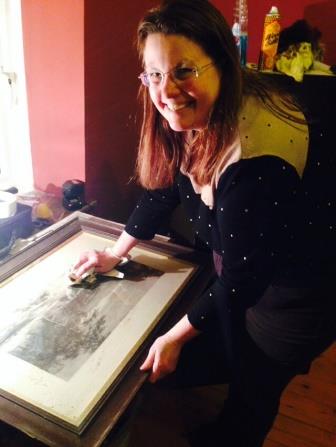 When we moved in the room was used as store, so the first job was to get the room cleared, so the boxes were moved again – admittedly with some unpacking!
It was a frenetic time – barely time to get some Christmas shopping done or a game of Spider Solitaire (which is the Cae'r Bryniau equivalent of Angry Birds).
Mother-in-law arrived on 23rd and was roped into hanging curtains and supervising the hanging of Elvis.
Elvis is more correctly Michael Jackson. Confused? You should be…
Michael Jackson is a fine stag, shot at Ardross in Scotland in 1911 by A G Grenfell, Suzi's Great Grandfather. After many years of hanging in one location in Cheshire he suffered an ignominious fall from the wall and broke his nose.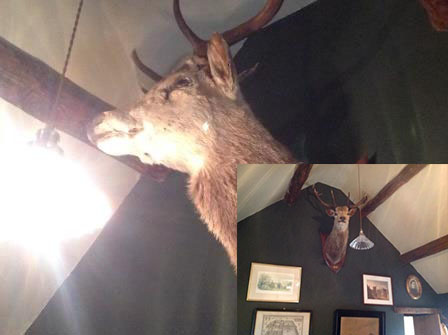 It was only after corrective nose surgery by the talented Jones' that he was complete again, although hr doesn't quite look his old self… hence the Jackson handle. Unfortunately someone who cannot be named kept mixing Michael with Elvis (well they are both dead singers, I suppose) so he will be forever Elvis!
We completed the majority of the work on Christmas Eve and somewhat later than usual put up decorations on Christmas morning.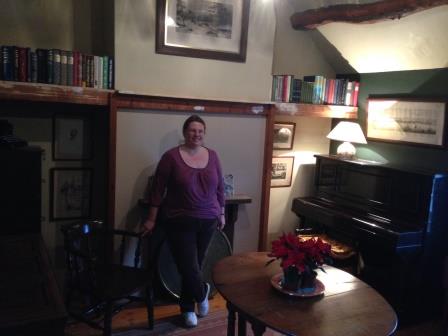 We also woke up Santa and he took up residence in his new home.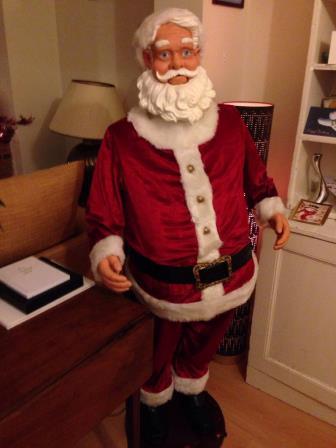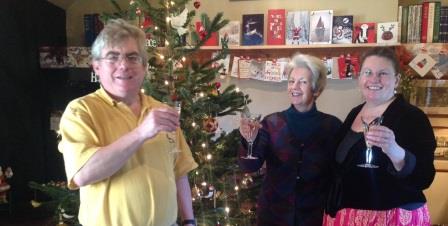 Christmas and New Year was a lovely time of food, friendship, walks and recharging the batteries. The daily duties of chicken husbandry are hardly a chore, except when the wind is so cutting that you can feel it slicing through you. We knew that Anglesey is windy, but our first winter has been very windy indeed!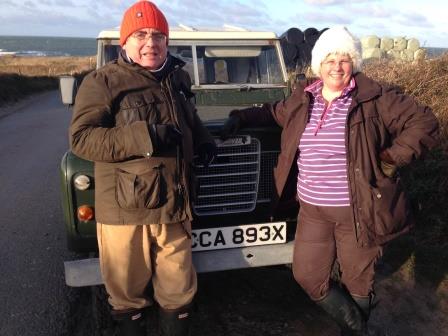 Talking of wind, the preparation for the polytunnel has been going steadily. The location was very important because of the prevailing wind and after lots of standing out in different weathers we chose a spot on the eastern side of the site, sheltered from the prevailing wind by a rocky outcrop. Having sampled the winds, it'll be fingers crossed! Finding gaps in the weather I have now got all the foundations posts in ready for the hoops, which is the next job.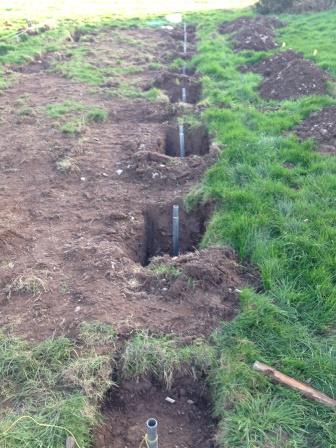 Instead of being put into hibernation until next year, Santa wanted to be closely involved with the works. We found him with his Hi-Viz on ready to get outside, but his DIY skills are a bit dodgy, so he was over-ruled!
We are looking forward next week to the installation of a fireplace in the Library – the chimney sweep had a difficult job getting it cleaned and the contents of the chimney included a nest and a desiccated jackdaw!
Next time I will give an update on the chickens and the problems of an aggressive cockerel! This morning, however, it looked as though one of the hens had metamorphosed into a pheasant – apologies for the blurry picture. Now, where's the rifle?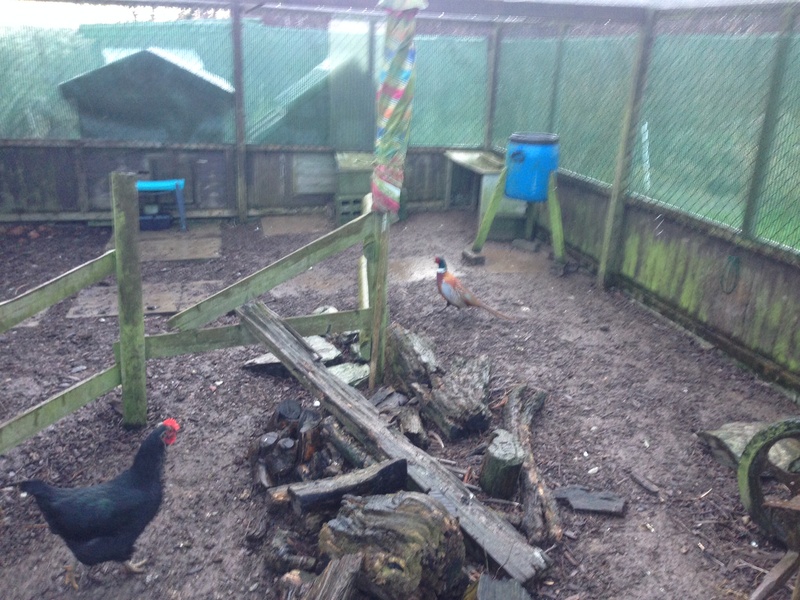 Categories: The smallholding, The livestock, Accommodation
/