Shopping Cart
Your Cart is Empty
There was an error with PayPal
Click here to try again
Thank you for your business!
You should be receiving an order confirmation from Paypal shortly.
Exit Shopping Cart
| | |
| --- | --- |
| Posted on December 15, 2014 at 7:05 AM | |
We left off at the last part of our story where we had just moved into Cae'r Bryniau and were loving exploring our new abode.
When we moved in we adopted 11 chickens (or rather 10 hens and a cockerel – of whom more later) and three cats. The cats are Fleegle, Bingo and Drooper, although we don't know what happened to Snorky. For those not of a certain age the four characters were the Banana Splits, on TV in the 1970s – they bore no resemblance to cats, but hey ho. More surprisingly they are also female cats and I had always thought of the Banana Splits as male characters!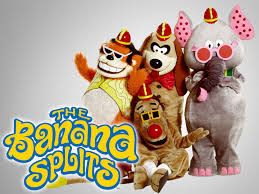 Then there are the poultry. We had agreed to take them on when we moved in and they have obviously been pets, all with names, listed below, so will not face the same fate as some of our future poultry stocks (the former owners will be pleased to know)! Did you know that there are thousands of videos on YouTube on how to dispatch chickens? Unfortunately most are US-based and look as though they are made on the Deliverance film set. No duelling banjos, though.
Anyway, we had to get to grips with management of the flock. The former owners had left copious instructions on how to manage the birds, what to feed them, when to clean them out, etc. What they did not explain, however, probably because it should have been obvious, even to an Oxford-educated person like Suzi, was how the water feeder worked and Suzi ended up with water all down her front when the contraption, full of ice cold water, fell to pieces when she first tried to assemble it. I can't talk. Clyde, the cochin cockerel, appeared to be a bit hen-pecked and needed treating with gentian violet. Guess who, when trying to free the sprayer was looking right down the barrel of the sprayer when it discharged. I still have specks of purple a couple of weeks later!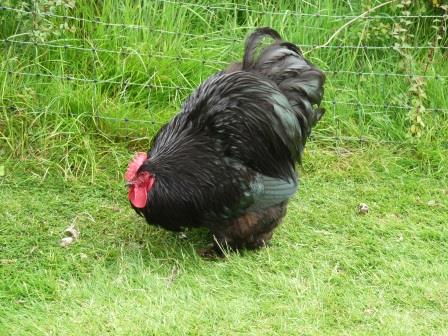 Clyde is a large and impressive cockerel and he does like to make his presence known. He particularly likes to point out to Suzi who is boss (brave bird!) and has on occasion gone for her, whereas he as pecked my boot once but he knows I am in charge. If it wasn't for the fact that he is a pet he would have been in the pot already!
The poly tunnel arrived a couple of weeks ago and I have been busy preparing the site. It took some time to select the right location, so we spent a lot of time wandering around the site, with fingers in the air, assessing the most sheltered location.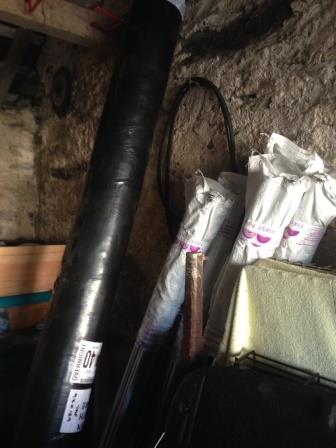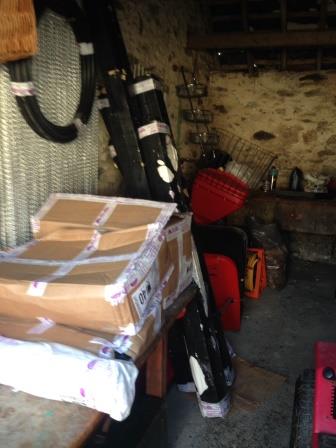 We have certainly had the experience of the Anglesey wind and the much spoken about 'weather bomb' brought very high, cold winds, but we survived.
In the end we opted for a location on the bottom field in the lee of the rocky outcrop. It is accessible and sheltered. The next blog will give an update on progress of the erection of the tunnel, the newest acquisition and the disappearing crog loft – watch this space.
Categories: The smallholding, The livestock, Latest activities
/