Shopping Cart
Your Cart is Empty
There was an error with PayPal
Click here to try again
Thank you for your business!
You should be receiving an order confirmation from Paypal shortly.
Exit Shopping Cart
Hello!
Yes, it is me – after an age I am back at the blog desk. No excuses, it's just that we have had a very busy spring and summer and our B&B plans have been put back until next Spring due to a variety of reasons, some within our own control and not contractor-related!
As of today we have been here just over a year and our thoughts are turning to the next 12 months and the exciting times ahead. We wanted to mark the momentous occasion by a review of what we have been doing on the smallholding and away from the island.
Firstly the en-suite guest room is (nearly ready) and we have a luxurious bathroom and bedroom. The before and after pictures show the difference. Trying to get the work done was a challenge but the results are fab!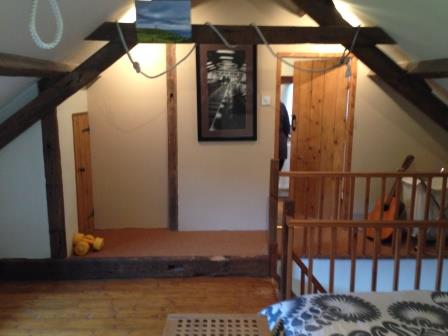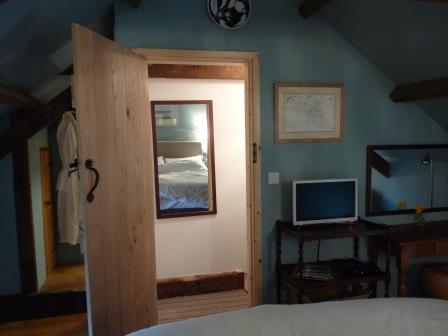 Secondly the valley. The polytunnel is up and running as are the veg beds. Just have a look at the progress… The storms in recent weeks have challenged the construction but she has held up in spite of 70 mph winds. After a relatively fallow first season, due mainly to my absence for much of the summer, we are looking forward to a new growing season. We also have raised beds, which have been very productive, and we have been able to assess what grows best in some challenging windy conditions.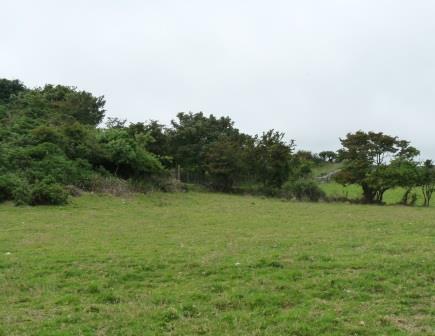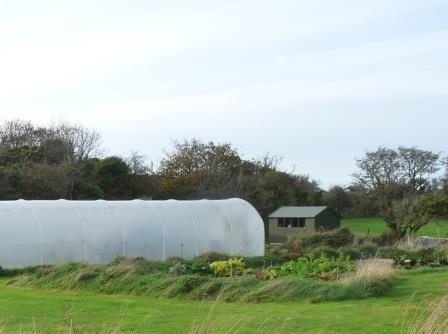 There has however been so much going on that we don't know what has happened to the year.
Arrivals and departures…
Arrivals
One of the most exciting aspects of the year has been the arrival of various new members of our family. The first significant arrival was that of our piglets. Numbers One and Two were Oxford Sandy and Black weaners and were 8 weeks old when we picked them up from the breeder on the island. They were boars who settled quickly into their new home in the Pig Field (note the imaginative nomenclature). They started with a small pen and we gradually extended the field until they had most of it. They did a fabulous job of clearing the bindweed!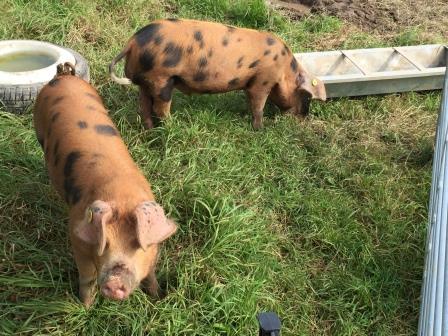 The next arrivals were 12 Soay sheep. We opted for Soays, which are Hebridean, as they are hardy and can pretty much look after themselves. We picked them up from Macclesfield and had a long drive with the trailer. We had agreed to take 8 ewes and 4 castrated rams, with the aim of using them to cut the grass. The lawn tractor is great (well, the new one is) but can't cope with the incline. The sheep settled well into their new home. We had our friendly local fencer divide the field up so we can rotate them and they are doing a great job. The next arrival was sheep no. 13! One of the ewes was, unknown to us, in lamb and Felix arrived a couple weeks after the herd arrived. He is named Felix, which is Latin for lucky or happy, as he (1) was not castrated, (2) will provide the source of new lambs when we get a couple of ewes from a different herd and (3) he will not end up in the pot! We have a policy of not naming the animals unless we do, so we also have Friendly, Granny and Daggy-bottom (don't ask!).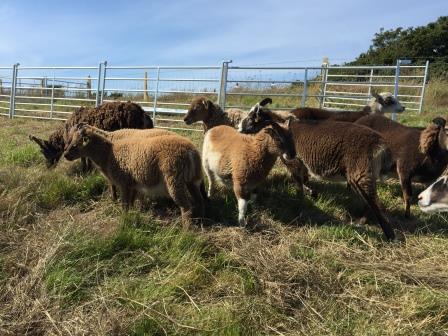 Finally we saw the arrival of Tom and Barbara. Tom and Barbara, born on 26th June, are the two most gorgeous Labrador puppies. Tom is yellow and Barbara is black, but they are from the same litter. They joined us in early September. Both are thriving – hard work but a joy! Their names are pretty obvious. We were given such a ribbing about living the Good Life that there was no option but to name them after Tom and Barbara Good! The picture is the latest one of them. Tom has just been 'done' and Barbara is wearing a cone in sympathy.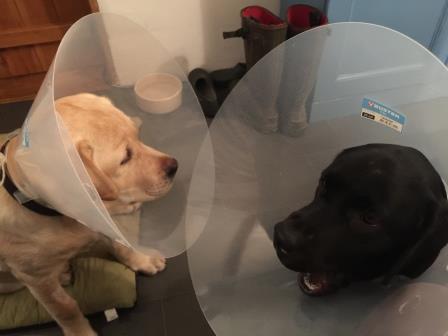 Departures
We have sadly lost three chickens over the year but still have eight who are very happy and healthy but being rare breeds eggs are rare!
One of the hardest things we did was to take Numbers One and Two to slaughter. Being boars it is recommended that they are killed no more than six months after birth due to boar-taint. This apparently occurs when they hormones start to race around as they become sexually mature. We always knew that if we wanted to live this life then we would have to cope with this aspect of smallholding. Anyway, we took the pigs to the abattoir at Denbigh and picked them up the next day and left them with the butcher to prepare. They are now in the freezer and what we have had so far is delicious, especially when served with all our own vegetables! Visitors to Cae'r will be able to partake in some of the produce and the next pigs arrive in a couple of months' time.
The preparation of Suzi's treatment room is moving on and soon the therapy business will be up and running. It promises to be a calm and peaceful retreat, just the ideal place for top quality holistic therapies. 
One of the key elements we are looking to do is to be as self-sufficient as possible. We are on mains water but also have a well that apparently provided water for over a century. We would like to use the well water and maybe even look at a borehole to make us even more self-sufficient.
Through the good offices of the Centre for Alternative Technology we have also looked at what we can do in terms of energy usage and efficiency. Watch this space…
Finally, as English on Anglesey we wanted to do as much as we can to integrate and have therefore started learning Welsh. We are doing the Wlpan course every Friday morning at Cemaes. It is hard work but great fun and lovely people, too. Bendigedig!
Well, what a couple of weeks we have had. The weather on Anglesey has been varied, to say the least. After a very wet couple of weeks, it has got drier and colder. We have now discovered that the pond does need lining – the ducks are unlikely to like a stagnant puddle! Although it was full for most of December, as soon as the weather dried up the water level dropped, so there is a good supply but it doesn't hold. We have also decided that the pond needs to be bigger, so another digger hire is on the cards!
Last time I promised an update on the aggressive cockerel. Clyde is a Cochin and a large one.when we first moved in he was fine with me, not creating any problems, although right from the start he was trying to stamp his authority on Suzi. In recent weeks, though, he has taken to going for me, too, whenever I go near him. We have sought advice, from the previous owners, other experts, and it seems that none of the potential solutions work. Various suggestions were made as to what could be done.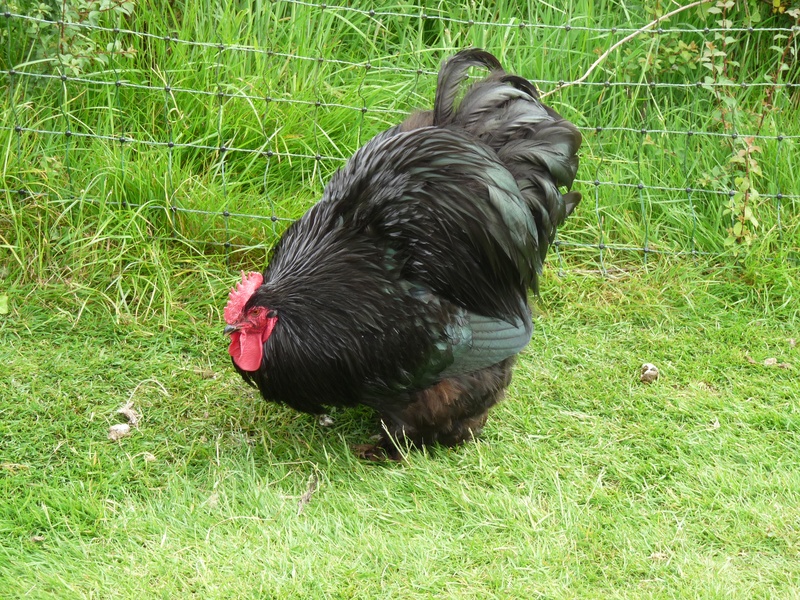 Wearing different clothes, standing firm, staring him out, not turning one's back – all these were suggested but none have borne fruit. I am the only one that can deal with him now and I have to segregate him if I need to clean out the hen house or check on eggs. There is now a comedic dance that goes on whenever I need to move him, as we both posture and strut for position, like some strange Argentine tango! Anyway, we knew that this would never be easy!
I never knew I was a fan of dancing until the Strictly Come Dancing phenomenon but we even a couple of weeks ago went to see Anton and Erin's fabulous 'That's Entertainment' show at Llandudno.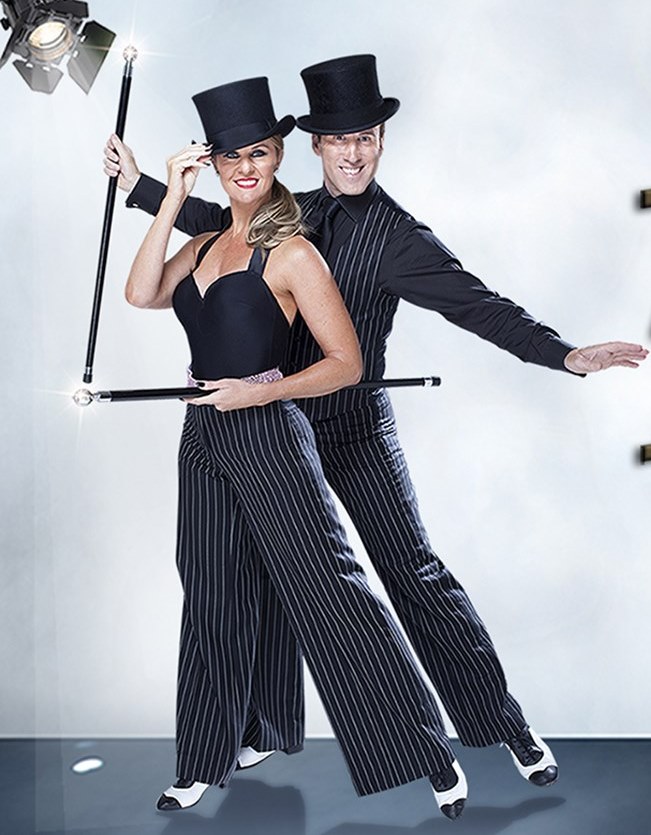 Not that you'd get me out on the floor but it is good to watch. Mind you, we did drop the average age when we walked in!
Other works that are going on include the driveway repairs. The drive is about 300 metres and rutted and potholed, which challenges smaller cars. Poor Dom's Smart Car did struggle – but it is so small he could drive down the middle of the track and miss most of the holes. Anyway, we had to grasp the nettle and get the drive repaired – although one neighbour suggested helpfully that if the drive is too good you'll get all sorts of callers! We do need to make it somewhat better for our visitors, however, so we bought a couple of tonnes of slate clippings and I spent a very happy couple of days filling and compressing the worst of the holes. Even better the weather was glorious!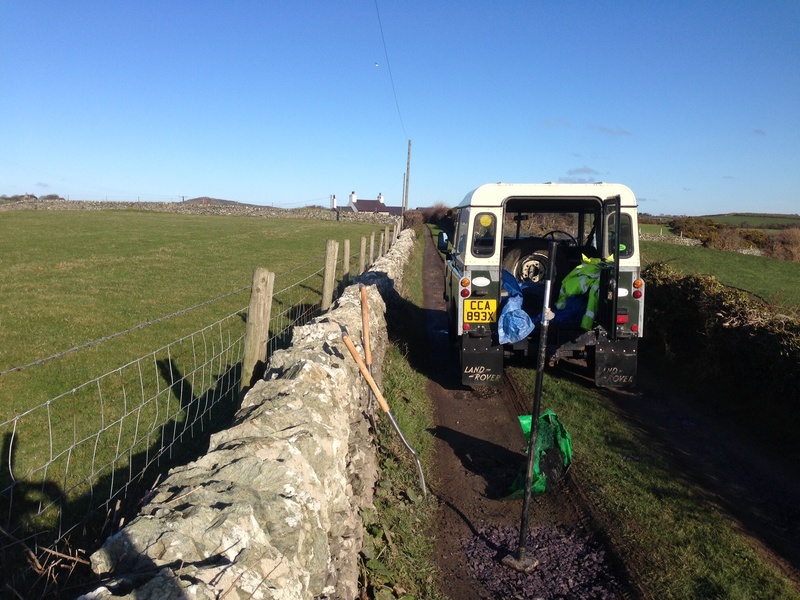 The job is almost finished and then it will be much improved!
The work on the polytunnel has stalled pending better weather but the preparation of the ground for the kitchen garden outside for the hardy crops is the next priority. We have been working inside while the weather has been less than clement and the library is nearing completion. The new fireplace has been installed (we used the Fire Works at Llangefni – they did a great job, although the need to put in a vent through an 18 inch thick wall was a challenge!) and we now have the surround tiled, using Spanish tiles collected by Suzi's great-grandfather at the turn of the last century. They look brilliant – as you can see.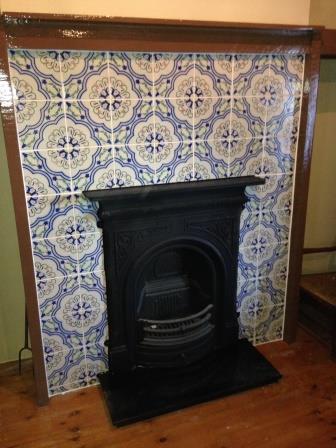 A great tiling job was done by Geoff, recommended by Izzy and Mikey. I think he'll get more work from us!
Suzi has been very happy choosing paint, material and other soft furnishing ready for when we have the B&B room ready. It has been somewhat frustrating trying to get the work done, but we now have the designs and are just waiting on prices. I never knew that there were so many types of shower, taps and baths! By the time the next blog is published I hope we might have the room ready.
In preparing the area for the growing we know we will need to have more storage so we are just off to choose a shed. What fun! We have also decided that the 'garage' in the barn is too small for the Land Rover (he is still to be named) so we are going to have to put up a garage for him. It also means I will be able to use the barn space as a workshop (or man-cave, as Suzi calls it), which is very exciting!
Ah, well. It is is time to head to the shed shop – more soon, when I hope to give an update on the arrival of pigs.
My, how time flies! It is amazing to think that we have now been here for more than two months and we are now in 2015! Happy New Year, everyone!
In the run-up to Christmas and the arrival of various special guests we were determined to get the 'Library' up and running. This room will be a place with lots of our books, pictures, Elvis (more of whom later) and the piano. It will also double as our dining room and the B&B breakfast room.
The room had been formerly the dining room, but was hampered by a reconstructed crog-loft, that was not usable, but which seemed to dominate the whole space. We were keen to remove it and get the place opened up. On 16th December it was decided to get it as complete as possible by Christmas.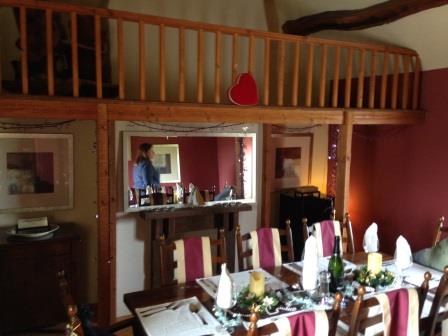 We cracked on. I was delegated with the demolition work (note to readers – don't try this yourself - unless you go to the hardware store and get lots of power tools, hammers, chisels and saws – and, of course, a workbench!!!)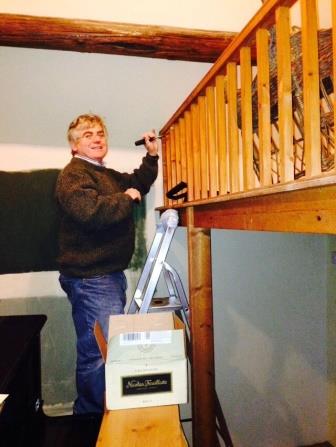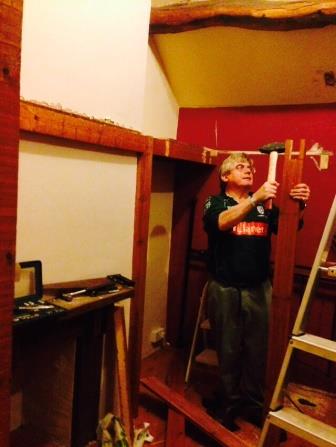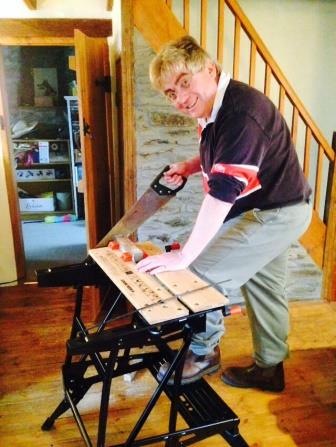 Suzi worked on the décor, selecting the colours and doing the majority of the painting, and the acquisition of curtain poles, soft furnishings and other furniture, as well as supervision and direction.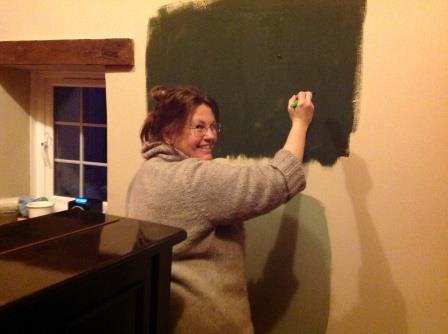 There was also a chance to get some of our pictures out and cleaned ready for display. Having had stuff in store for ages, it was good to see them again.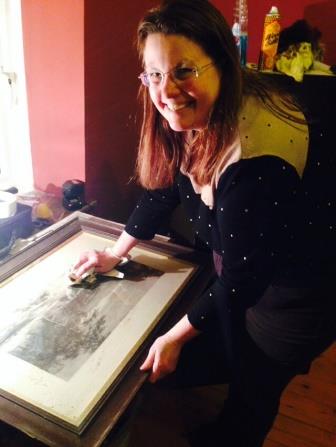 When we moved in the room was used as store, so the first job was to get the room cleared, so the boxes were moved again – admittedly with some unpacking!
It was a frenetic time – barely time to get some Christmas shopping done or a game of Spider Solitaire (which is the Cae'r Bryniau equivalent of Angry Birds).
Mother-in-law arrived on 23rd and was roped into hanging curtains and supervising the hanging of Elvis.
Elvis is more correctly Michael Jackson. Confused? You should be…
Michael Jackson is a fine stag, shot at Ardross in Scotland in 1911 by A G Grenfell, Suzi's Great Grandfather. After many years of hanging in one location in Cheshire he suffered an ignominious fall from the wall and broke his nose.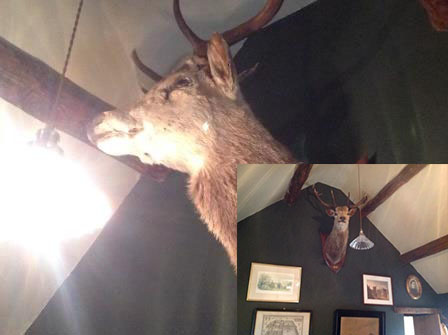 It was only after corrective nose surgery by the talented Jones' that he was complete again, although hr doesn't quite look his old self… hence the Jackson handle. Unfortunately someone who cannot be named kept mixing Michael with Elvis (well they are both dead singers, I suppose) so he will be forever Elvis!
We completed the majority of the work on Christmas Eve and somewhat later than usual put up decorations on Christmas morning.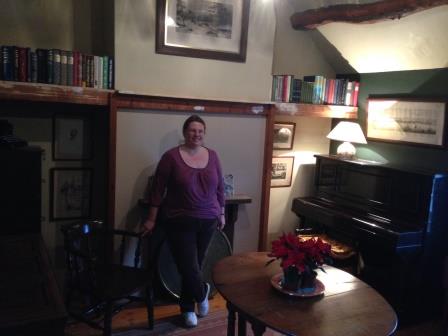 We also woke up Santa and he took up residence in his new home.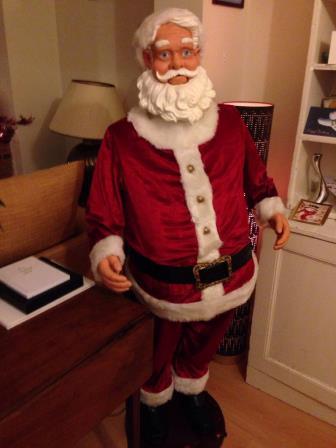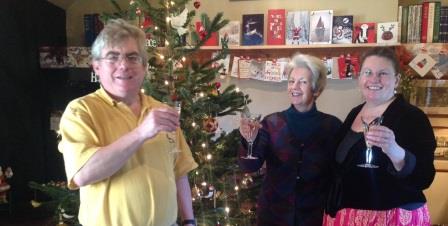 Christmas and New Year was a lovely time of food, friendship, walks and recharging the batteries. The daily duties of chicken husbandry are hardly a chore, except when the wind is so cutting that you can feel it slicing through you. We knew that Anglesey is windy, but our first winter has been very windy indeed!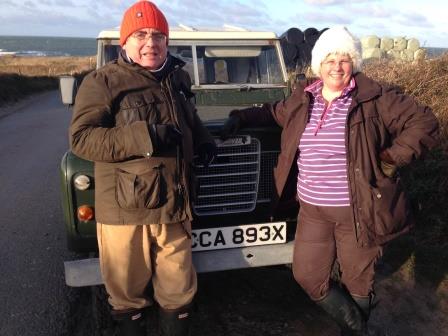 Talking of wind, the preparation for the polytunnel has been going steadily. The location was very important because of the prevailing wind and after lots of standing out in different weathers we chose a spot on the eastern side of the site, sheltered from the prevailing wind by a rocky outcrop. Having sampled the winds, it'll be fingers crossed! Finding gaps in the weather I have now got all the foundations posts in ready for the hoops, which is the next job.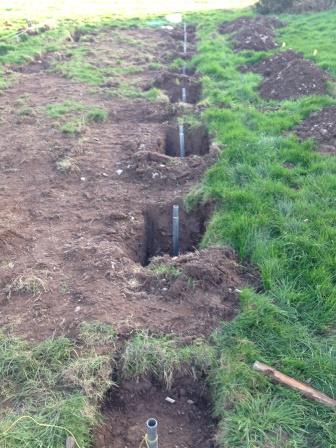 Instead of being put into hibernation until next year, Santa wanted to be closely involved with the works. We found him with his Hi-Viz on ready to get outside, but his DIY skills are a bit dodgy, so he was over-ruled!
We are looking forward next week to the installation of a fireplace in the Library – the chimney sweep had a difficult job getting it cleaned and the contents of the chimney included a nest and a desiccated jackdaw!
Next time I will give an update on the chickens and the problems of an aggressive cockerel! This morning, however, it looked as though one of the hens had metamorphosed into a pheasant – apologies for the blurry picture. Now, where's the rifle?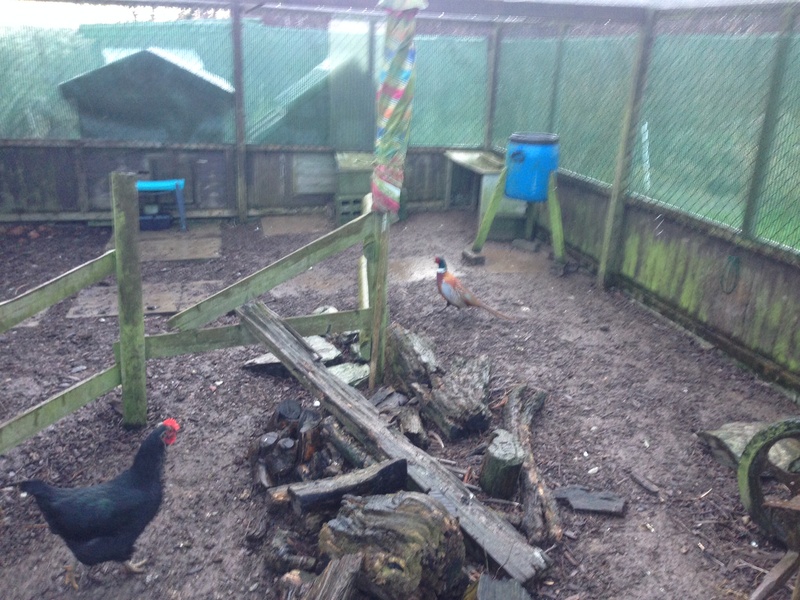 One of the advantages of living in the country is that you are required, by law, to take possession of a four-wheel drive vehicle, and being British the only four-wheel drive vehicle we are permitted to buy is a Land Rover. So off we toddled to the Land Rover emporium and came back with CCA. She is a beautiful 1981 Series III 88 inch in superb condition. She arrived home and settled in beautifully – even the chickens and cats took to her. She even agreed to Izzy and Mikey having a drive! Ok, so the law is self-generated - for our overseas readers, it isn't really the law, but we needed an excuse!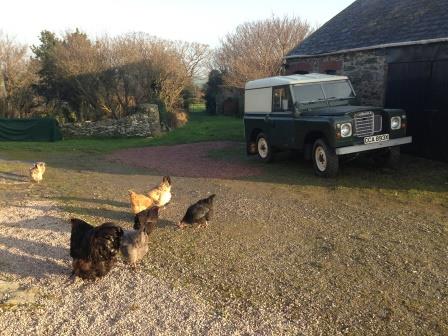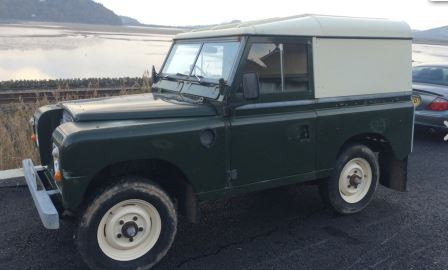 We also 'had to' hire a digger as I needed to dig a pond – it was a great priority! We had selected the location in the old pig field (now renamed the Duck Field). The digger arrived and I got to work, supervised by Suzi, who was concerned I might bury myself! Once the hole was dug I then moved on to dig foundation holes for the polytunnel. Bearing in mind the windy aspect the polytunnel needs to be firmly sited. Even though we selected the most sheltered spot, as someone said the other day, there is nothing between Brazil and us, so there is plenty of scope for the wind to speed up!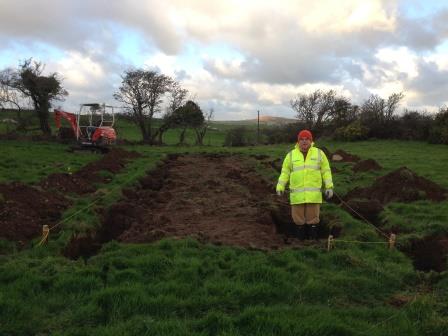 In the meantime Suzi started cleaning up the caravan ready for the season, because we are starting to get bookings for next summer, so pressure on.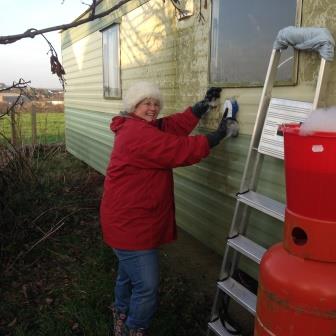 As I write this we are getting the Library ready for the Christmas festivities so more pictures next time, as well as updates on the pond and polytunnel.
All that remains is for Suzi and I and all the tribe to wish you all a very Merry Christmas and a prosperous and healthy New Year.
We left off at the last part of our story where we had just moved into Cae'r Bryniau and were loving exploring our new abode.
When we moved in we adopted 11 chickens (or rather 10 hens and a cockerel – of whom more later) and three cats. The cats are Fleegle, Bingo and Drooper, although we don't know what happened to Snorky. For those not of a certain age the four characters were the Banana Splits, on TV in the 1970s – they bore no resemblance to cats, but hey ho. More surprisingly they are also female cats and I had always thought of the Banana Splits as male characters!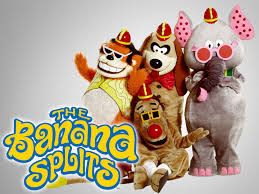 Then there are the poultry. We had agreed to take them on when we moved in and they have obviously been pets, all with names, listed below, so will not face the same fate as some of our future poultry stocks (the former owners will be pleased to know)! Did you know that there are thousands of videos on YouTube on how to dispatch chickens? Unfortunately most are US-based and look as though they are made on the Deliverance film set. No duelling banjos, though.
Anyway, we had to get to grips with management of the flock. The former owners had left copious instructions on how to manage the birds, what to feed them, when to clean them out, etc. What they did not explain, however, probably because it should have been obvious, even to an Oxford-educated person like Suzi, was how the water feeder worked and Suzi ended up with water all down her front when the contraption, full of ice cold water, fell to pieces when she first tried to assemble it. I can't talk. Clyde, the cochin cockerel, appeared to be a bit hen-pecked and needed treating with gentian violet. Guess who, when trying to free the sprayer was looking right down the barrel of the sprayer when it discharged. I still have specks of purple a couple of weeks later!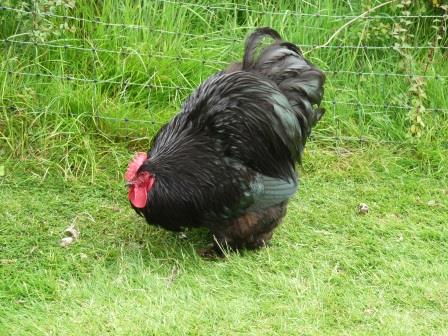 Clyde is a large and impressive cockerel and he does like to make his presence known. He particularly likes to point out to Suzi who is boss (brave bird!) and has on occasion gone for her, whereas he as pecked my boot once but he knows I am in charge. If it wasn't for the fact that he is a pet he would have been in the pot already!
The poly tunnel arrived a couple of weeks ago and I have been busy preparing the site. It took some time to select the right location, so we spent a lot of time wandering around the site, with fingers in the air, assessing the most sheltered location.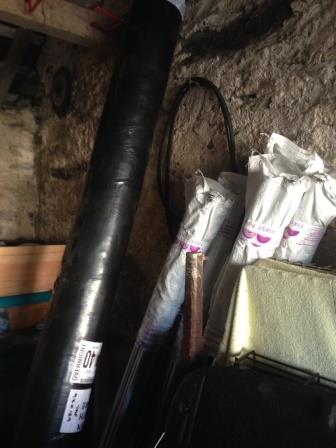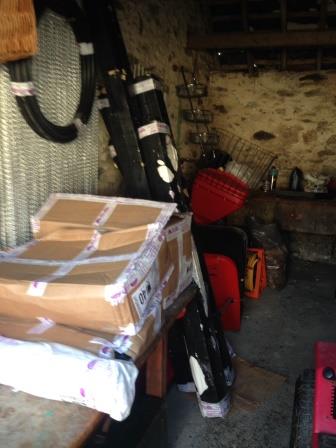 We have certainly had the experience of the Anglesey wind and the much spoken about 'weather bomb' brought very high, cold winds, but we survived.
In the end we opted for a location on the bottom field in the lee of the rocky outcrop. It is accessible and sheltered. The next blog will give an update on progress of the erection of the tunnel, the newest acquisition and the disappearing crog loft – watch this space.
This is the first posting on the new Cae'r Bryniau blog. We moved into the property on 29th October. Cae'r Bryniau is a wonderful Welsh farm cottage, probably dating to the early 1800s, set in five acres just to the east of the west coast of Anglesey, some 20 minutes north of Holyhead.
When we said that we were going to give up the rat race and get a smallholding, we were deafened by the shouts of 'Why?' or 'Have you done such a thing as that before?' or various permutations of those questions.
In short, the answers are 'Because we can' and 'No, but we will soon be.' The longer explanation requires a bit of history and some soul-searching, so here goes.
For those who don't know, Suzi and I met through a mutual friend in 2008, when I was Bursar of a London day school and she was the head of a school in Cheshire. After a year weekly travels between the North and South of England, with all the grief that goes with that, the opportunity arose for us to work together, at least on a part time basis. We decided that I would take the opportunity and whilst it was only part-time, I would fill the remainder of my time with undertaking some consultancy roles. The move was excellent and difficult in equal measures. The long and the short of it was that, whilst it was great being together, we realised that the school would have to close and we would need to reconsider our options. After a few months of dealing with the closure I took the opportunity to work in South Wales, at a sixth form college, and Suzi began a retraining programme as a holistic therapist.
We knew that the South Wales sojourn would be only an interim measure, as we wished again to work together and we developed a scheme to run our smallholding with a B&B, holistic therapy practice and whatever else we could do alongside. My parents had briefly had a smallholding in the early 1980s but it was only in later in life that the interest developed. Both of us love gardening and I was inspired by the late, great Geoff Hamilton, to set up an ornamental kitchen garden. That may not now be exactly what we are going to do, but at least the seeds were sown (pardon the pun).
Our journey to find the right place started pretty much as soon as we were both in South Wales together. We knew we would be in a position to make the leap in around 2015/16, so started the trawl of suitable properties. Where do we go? We had loved visiting the islands of Scotland so perhaps somewhere idyllic on Islay might work. What about the West Country or the Lakes? In the end we realised that Wales had caught us. We love the scenery, the people and, to be honest, the value for money. We wanted a few key things – a bit of land (2+ acres), somewhere picturesque, near the sea, with a lovely house. Our search began in earnest in 2013 with many weekends visiting part of West Wales we had not explored before. We were slightly hampered in May of 2013 by a major event in our lives - we got married!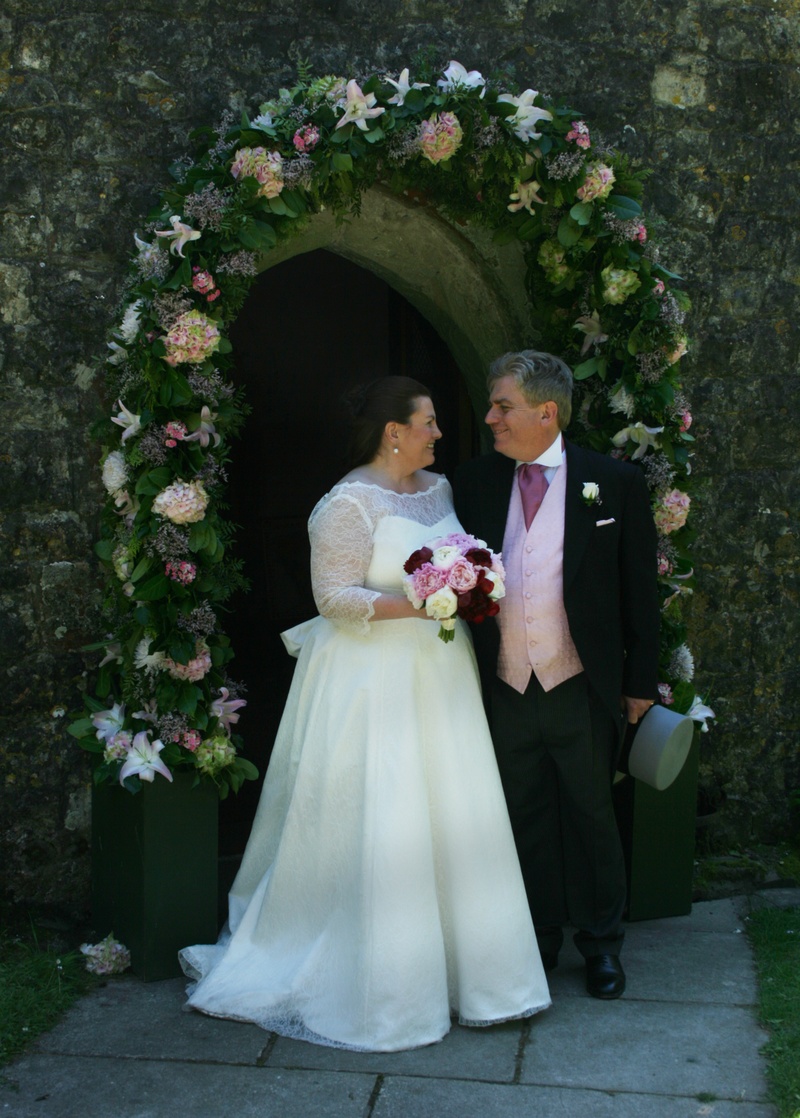 After that event was behind us, we started our search in Cardiganshire and progressed north. At about this time (May 2014), it became obvious that a move was needed. Not going into the background in any detail, to protect the less-than-innocent, it was just time to leave where I was working, so I handed in my notice and Suzi became a full-time Kirsty Allsop, house hunting incessantly.
We visited a number of places. They were either not the right house or land or location or all of those. They varied from the woman with the weird hair and hundreds of cats, living in a wood with mould growing from all parts (and the house was pretty bad, too) to the lovely young woman, running a sheep farm left by her father, which would have been fine but for the two mile track and listed cottage.
Then one day, it occurred to us that we had not considered Anglesey. Having only been briefly for an occasional visit to take Izzy to lunch when she was at Bangor, we recognised it was a lovely place but we barely knew it. More recently, having spent some time here, we realised just what a fabulous place Ynys Mon is. With great beaches, lovely walks, charming villages and lots of tourists, what more could you want?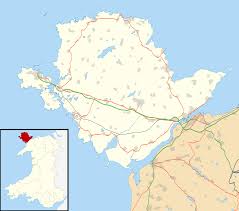 We fell in love with Cae'r Bryniau the moment we saw it. A charming cottage in just the right amount of land, near the coast, close to a good pub; it was perfect. More excitingly, the vendors did not have to find somewhere and we weren't in a chain, so we could move quickly.
So, here we are, living the Good Life (fortunately my requirement for a tenner each time someone said that has funded my polytunnel! – well, not quite!) and starting to plan the way forward.
In the next episode you will discover the tribulations of our move into the house and our first attempts at chicken husbandry…
/